The Black Scorpio Underground – …………Pure Hate Fuck…………… C30
1 July 2013
xdementia
No Comment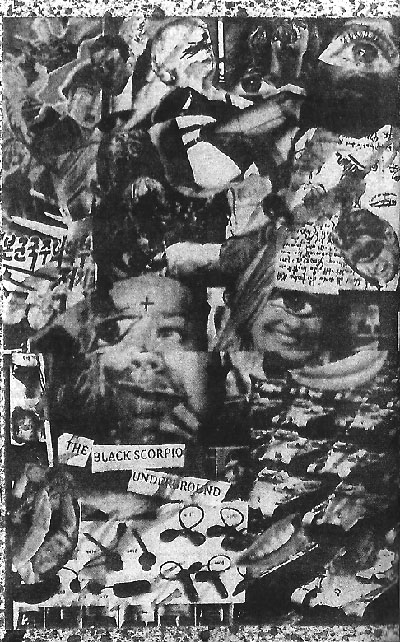 The Black Scorpio Underground – …………Pure Hate Fuck…………… C30
This is a sickened tape from this up and coming black noise act. Let's start with the design here: probably one of the most fucked up collages I've ever seen. Putting nun's heads on porno stars, penises on children, and pentagrams on refugee's foreheads this is some krazy shite.
Side A represents this artwork well with an audio collage of horror movie samples and awkward noise. One very noticeable thing here is that the panning is really strange and awkward not really making any sense but that adds to the experimental nature. It's definitely an interesting listen although it lacks any kind of flow, but that seems to be the intent here.
Side B is slightly more "song" oriented. Broken up into two tracks with alternating noise manipulations. Still very heavy on the samples but they take a back seat here for the more abstract sound elements. There is some actual pacing here which holds things together a bit more and makes the composition tighter.
Definitely a solid release which very much feels like some sort of a cult document. People into vintage horror movies and experimental noise will find this especially rewarding. A good match-up of project and label.
| | |
| --- | --- |
| Composition: | |
| Sounds: | |
| Production Quality: | |
| Concept: | |
| Packaging: | |
| Overall Rating: | |