Massdirge – Untitled CDR
11 July 2013
xdementia
One Comment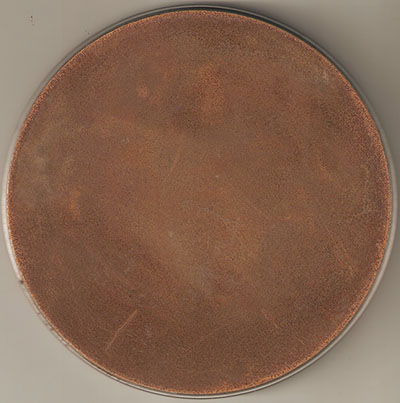 Housed in a circular metallic box with lightly rusted exterior this CDR is quite a work of art in and of itself. Luckily it's not just the packaging that makes this release a worthwhile experience.
Massdirge presents intense industrial drone sludge which focuses on repetitive rhythmic elements and elongated guitar riffs. Normally I wouldn't really go for this kind of thing, and I do think that some of the guitar elements even in this release are a bit overplayed. But luckily Massdirge mixes it up with a lot of other interesting industrial sounds so as to keep my interest throughout.
The compositions on the CDR are quite strange with a lot of weird start/stop and alternating between different ideas which makes it all a bit awkward and fragmented but somehow that also kind of adds to the angular atmosphere and inaccessibility of the heavy sound.
The overall production is good but most elements tend to stay within the lower register focusing on bass pulses, pulsating frequencies, and dark distorted filth. Since my system has a sub woofer it's clear the release makes good use of those lower frequencies but I might guess you'd lose a bit of the punch if listening without a sub.
This is one for fans of drone/sludge and perhaps those more adventurous industrial fans. Listeners who enjoy Sunn0))), Khanate, and bands of that ilk will be sure to dig this. Good work.
| | |
| --- | --- |
| Composition: | |
| Sounds: | |
| Production Quality: | |
| Concept: | |
| Packaging: | |
| Overall Rating: | |