Conure/15 Degrees Below Zero – Split C60
6 August 2013
xdementia
No Comment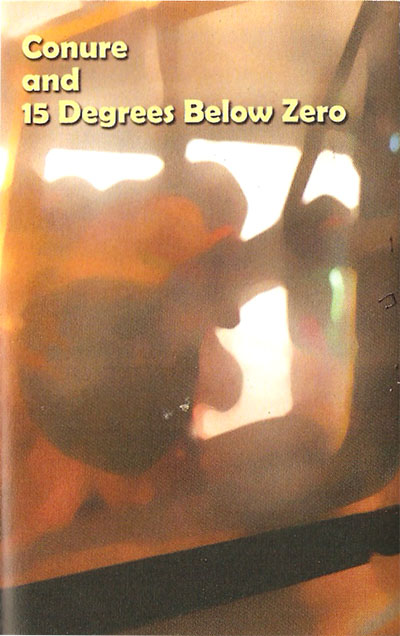 Conure/15 Degrees Below Zero – Split C60
This hefty split tape sees two artists whom I haven't heard from for some time. Definitely good to see them back at it though as this is a solid showing of creative ambient/noise soundscapes. I'm not too into the artwork which is all blurry and presents a mix of ugly colors and fonts, but luckily the sounds don't correlate.
Side A sees Conure strutting his stuff. It's a good example of electronic ambient noise using a variety of drone textures sounding mostly as if culled from hums and feedback, there are perhaps some synths in there as well. It's monolithic and shifting from one pulsating texture to another. Abstract yet well thought-out it works.
Side B features the work of 15 Degrees Below Zero who uses a combination of post-rock guitar picking which eventually breaks down into muffled spoken word and interesting manipulated experimental tones. The sounds are intriguing and the basic guitar picking eventually evolves into slowly rotating harmonies which form a theme that is repeated.
Both artists represent solid showings for experimental sound with a dark edge. The works of Conure are pure ambient noise, but there are times where the 15 Degrees Below Zero track remind me of Fennesz but not as glitchy. Good work from these two long-standing artists.
| | |
| --- | --- |
| Composition: | |
| Sounds: | |
| Production Quality: | |
| Concept: | |
| Packaging: | |
| Overall Rating: | |