Shiver – The Light Within has Turned to Darkness C20
7 August 2013
xdementia
No Comment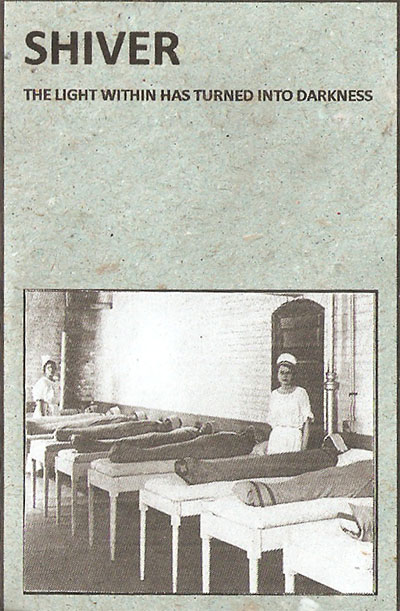 Shiver – The Light Within has Turned to Darkness C20
I remember the last Shiver album to be more along a more noisy, power electronics vein, but here we have a good delivery of dark ambient/death industrial to mark a new turn in their work. I dig the packaging here with the j-card being printed on textured paper, simple artwork and text make the release have that kind of old school feel that is also recalled in the music.
The production of the tape makes it slightly more difficult to say how these tracks actually sound as it's very bass heavy but it does help add to the sinister atmosphere. What you will find is sub-bass drones and pitched-down scrap metal movement that builds atmosphere instead of aggression. The tracks are good for this new shift in styles much reminding me of the work of Steel Hook Prostheses.
Side B begins to be enjoyable as well with a dark industrial dirge. I really like the old school film-score style sample used to make the transition into a noisier blast of power electronics that finally starts to sound like the Shiver I'm familiar with. However, it's here where the bogus quality of the tape really holds back the sound and a lot of the high frequencies are sadly lackluster.
This is a good tape but for the production area. Definitely a good showing of dark industrial and mixture of sounds and layers though. Also, a good evolution for the project which greatly increases my interest in them.
| | |
| --- | --- |
| Composition: | |
| Sounds: | |
| Production Quality: | |
| Concept: | |
| Packaging: | |
| Overall Rating: | |