Rale – I Sit By the Window and Watch Walls and Ceiling CD
9 August 2013
xdementia
No Comment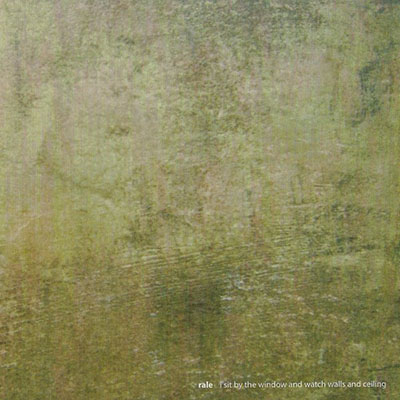 Rale – I Sit By the Window and Watch Walls and Ceiling CD
I couldn't help but brace myself for the excitement that the title of this album conjures. All jokes aside, I assumed this would be a minimalist, maybe ambient affair and it appears I was right. Rale is a project that is entirely new to me and they deliver some interesting quiet and soft atmospheres on this disc which totals about 50 minutes in length.
Luckily the song titles are actually much more exciting, or at least more intriguing than the album title. Golden Hydra Chokers is a good example. This isn't just minimalism – although it is slowly evolving, quiet, and understated – but it is detailed and layered experimental ambience that is quite well thought-out.
The sound continues to morph into some more noisy synth layers in Abnatural Burnings and then converges into possibly the most effective track here Quaking Mass At the Center of Everything where Rale simply does what they do best; slowly morphing, monolithic drones.
The epic 17 minute Pattern Hostile To Mundane Analysis should be the tour-de-force of the album, but unfortunately it is perhaps the biggest let down on I Sit By the Window and Watch Walls and Ceiling. Much silence interspersed with basic, somewhat plain drones acts to break up the flow of the record and is just too dry for my tastes.
There are high points to the disc and low points as well so it turns out that Rale has offered a balanced effort. Fans of minimal ambient projects like Crawl Unit will enjoy this. The artist shows promise here but the album is disrupted by Pattern Hostile To Mundane Analysis. An interesting effort.
| | |
| --- | --- |
| Composition: | |
| Sounds: | |
| Production Quality: | |
| Concept: | |
| Packaging: | |
| Overall Rating: | |