Songs From the Otherworld – Mycophagy 3"CDR
14 August 2013
xdementia
No Comment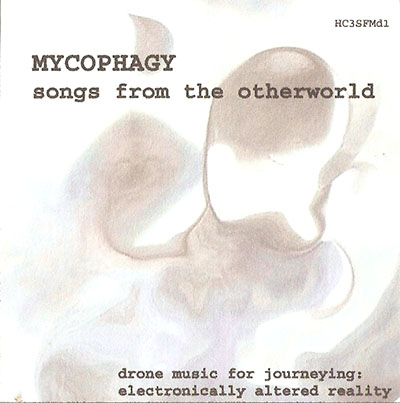 Songs From the Otherworld – Mycophagy 3″CDR
There are a few immediate warning signs just regarding the packaging of this release. It could be the shitty plastic sleeve that surrounds it, or the terrible type work. It could also be the photoshop filtered artwork but perhaps the most glaring thing is short explanation contained on the cover: "drone music for journeying: electronically altered reality." Honestly I don't know why you would have to explain something that is at the same time so meaningless, but also is something that is abstract enough to be portrayed in the sound itself rather than awkwardly plastered on the cover.
So I'm just going to accept that I really have to dismiss the packaging to give these sounds a fair trial. Done, forgotten.
What we have here is a layered drone track consisting of mainly frequencies in the upper-mid and high ranges. The highest of these are somewhat akin to what a bad case of tinnitus might sound like. The material is rather one dimensional and dry until about the 11 minute mark when some interesting textures are finally brought in through the mid range. At this point the droning high frequencies are really quite irritating and take too much focus away from the more interesting textures.
The quality of the sounds are either bowed cymbals, metals, with perhaps some synthesizers in there as well but it comes off as more academic than ritual. Mainly because of the harsher and more abrasive nature of the sounds which tend to prevent the track from taking a more hypnotic approach.
It's obvious that Songs from the Otherworld can create some interesting sounds here but having everything lumped into such a limited frequency range really holds back this recording, plus the insistence of high-pitched tones really wear down the ears a lot to make Mycophagy barely enjoyable.
| | |
| --- | --- |
| Composition: | |
| Sounds: | |
| Production Quality: | |
| Concept: | |
| Packaging: | |
| Overall Rating: | |