Grunt – Someone is Watching CD
15 August 2013
xdementia
No Comment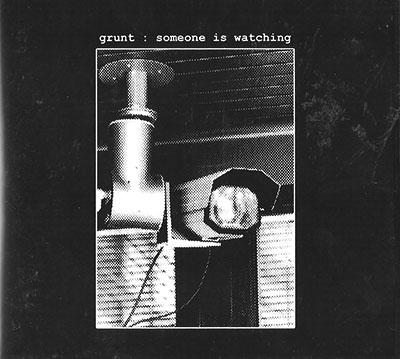 Grunt – Someone is Watching CD
This is a re-issue of an early tape release that was also on the Force Majeure label and originally released in 1998. As Grunt's very first release was in 1994, this is quite early in the project's lifespan and it's certainly interesting to hear material from these formative years. The re-mastering on the album is quite pristine which makes the quality clear and abrasive, definitely a good way to start with a re-issue.
The defining characteristic between this earlier work and Grunt's current work is intent. These tracks seem much more like they were created on the fly with less thought as to how their full composition will play out. So it comes across as more improvisational, however they still stay within a very focused power electronics realm.
If you are at all a Grunt fan and haven't heard Someone is Watching you will undoubtedly not be let down. These tracks fall within his more structured power electronics style and could fit right in line with predecessors of Seer of Decay, although it probably has the most in common with Europe After Storm.
Though there are growing pains here too, the squeaky electronics featured in the title track and the sample heavy You Can't Hide are two tracks that you would be hard pressed to find on any current Grunt outing. It's interesting to hear an artist that generally avoids these cliches employ them, and for that Someone is Watching becomes an intriguing document.
From the great quality, to the underrated place in Grunt's discography Someone is Watching was surely due a re-issue. Although I'm not sure the disc is getting much exposure even now, it's a key point in Grunt's discography shouldn't be overlooked. Recommended for dilettantes and fanatics alike.
| | |
| --- | --- |
| Composition: | |
| Sounds: | |
| Production Quality: | |
| Concept: | |
| Packaging: | |
| Overall Rating: | |