Pestdemon – Helvetesljuset LP
26 August 2013
xdementia
No Comment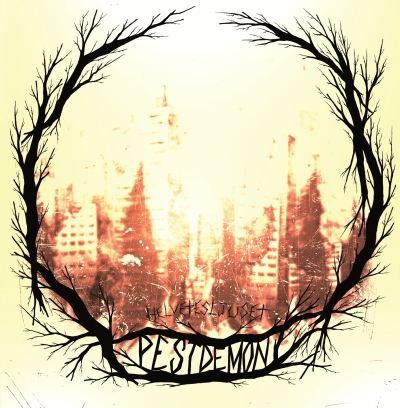 Pestdemon – Helvetesljuset LP
Pestdemon is an act that I had reviewed before and found some potential in the sounds. The man behind the project is Andreas Johansson and the material here is beautifully presented by Unrest Productions with some really exemplary artwork. Definitely an LP worthy of procuring in physical format.
Side A contains 2 tracks the first Silhuett Av Tva Horn an excellent ambient/noise track using modified samples of orchestral music with heavy washes of distortion. I'm not sure when the composition eventually melds into the second track entitled Att Blidka Djavulen Dar Inne but when it does the orchestral samples are replaced with intensely heavy bass throbs of dirty sound and industrial feedback sounds. Tons of clanking and musique concret helps to increase the details in the textures as well. One very unique thing here is the absolute control of the sound, it's abstract but the buildups/breakdowns are very clear and precise.
Side B commences with Gransland upping the dark ambient factor with some reverberating bell sounds but also very quickly introducing heavy blasts of distortion worming their way through the mix. Gradually the track dies down and works it's way into the title track which slowly builds to bombarding waves of hate-filled dark noise. Seething tendrils of doom scraping at the edges of your sanity this is truly dark stuff and once again, that control of sound and composition is still there making the huge blasts of distorted sound fx that come into the mix later in the track being the icing on the cake.
Helvetesljuset is an excellent show of the duality of noise. The production is extremely crisp and clear yet the actual sounds themselves are the most filthy and disturbing textures that have slithered their way into my ears. Similar artists that are called to mind are Hum of the Druid and Demonologists. Very nice work.
| | |
| --- | --- |
| Composition: | |
| Sounds: | |
| Production Quality: | |
| Concept: | |
| Packaging: | |
| Overall Rating: | |