Kata To Chreon – The Sterilization of Eve CDr
28 August 2013
xdementia
No Comment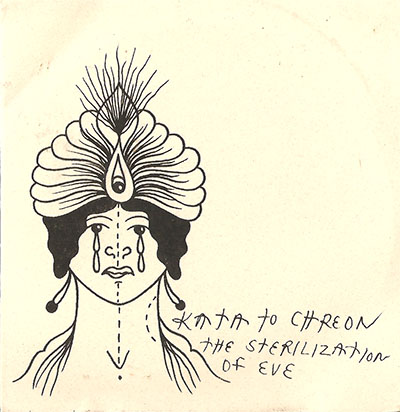 Kata To Chreon – The Sterilization of Eve CDr
Kata To Chreon is a project I am unfamiliar with and on The Sterilization of Eve they present a sound that can only be the result of Skinny Puppy, Plaid, and Brighter Death Now collectively giving birth to some monstrosity. Not to say the sound here is bad, it's just a really strange mix of different styles.
I wouldn't go as far as to say this music is original, but I will give them the credit of using quite creative sounds. Some of the tracks here are noisier with a more plodding industrial bend and others tend to lean more on the electronica side of things. One thing you can count on is that there is always an interesting mix of synthesized sounds and weird vocal manipulations.
At about an hour there is a very wide variety of tracks presented some of which are most certainly better than others. There is some material here which I just don't like but it's mainly due to the weird style of sound rather than actual bad song writing or lack of effort.
I'm not really sure who would actually be into this kind of stuff. I might guess fans of Skinny Puppy who didn't think they were experimental enough, or fans of Brighter Death Now who wanted more electronica beats in the mix. Needless to say, this delves deep into the weird.
| | |
| --- | --- |
| Composition: | |
| Sounds: | |
| Production Quality: | |
| Concept: | |
| Packaging: | |
| Overall Rating: | |