Raven – Extinction C20
4 September 2013
xdementia
No Comment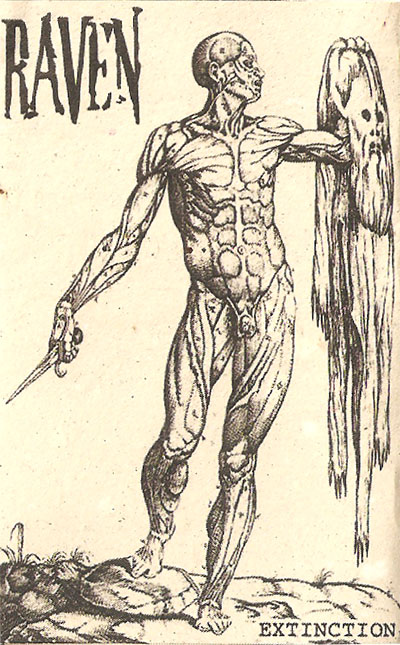 Raven – Extinction C20
Raven is one of the acts that has been around for 2 years and now has over 33 releases. I personally applaud the effort of the project as I have absolutely no idea how it's possible to release that many records in such a small amount of time. Yet at the same time I tend to raise an eyebrow at the quality that those records may or may not embody.
All skepticism aside taking a listen to the tape yields some decent ambient/noise textures. Side A kicks off with the title track which is a layered and deep composition. Presenting some creeping washes of detailed noise drones whispering subtly and converging into a good show of evolving ideas. The second track here is Bombstrike which takes things into a more experimental noise direction. Synth noise, found sound, and elements that are seeped in distortion collide. Once again the composition evolves succinctly and is even playful at times while still maintaining a dark edge.
Side B is less harsh with more of an experimental ambient nature. The track is entitled We All Bleed Red and kicks off with a kind of lame digital texture. Luckily it eventually morphs into an airy drone with weird sci-fi synth sounds added to the mix. About half the textures here are interesting and the other half are quite bland and/or cheesy synth sounds that any simple oscillator spurts out.
Extinction is a good effort and a solid release. Certainly better than what I expected given how prolific this artist is. Nothing super original or groundbreaking but a decent show of effort and consistency which leads to some detailed and layered tracks.
| | |
| --- | --- |
| Composition: | |
| Sounds: | |
| Production Quality: | |
| Concept: | |
| Packaging: | |
| Overall Rating: | |