Instinct Control – Who We Are 3"CDr
5 September 2013
xdementia
No Comment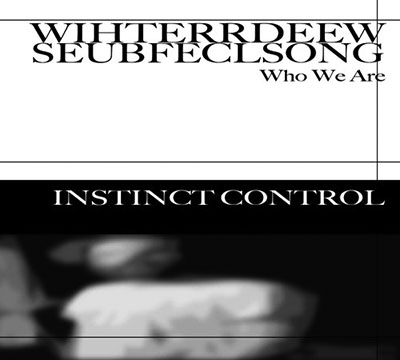 Instinct Control – Who We Are 3″CDr
Instinct Control is Ryan Dunn not to be confused of course with the late, great Ryan Dunn of the infamous Jack Ass prank troupe. The Ryan Dunn we are concerned about is a resident of Chicago, the man behind the unrelenting experimental noise project Instinct Control, and one of the people responsible for the Enemy show space which gave host to many incredible shows during it's duration.
My first experience with the project was a live performance where Dunn manipulated a 4 track tape machine by using his body as an electronic transmitter. The sound was always raw, loud, up front, and intense. The material on Garble Bane is very similar. Presented in one long track this is circuit bent hell, pure electricity in audio form. It must be the sound of getting electrocuted if ever there was one.
It is an obvious intention that the sound source here is completely dry. No effects are used. With that in mind the composition is surprisingly versatile with active intensity, random noodling leading into more focused passages, build-ups and releases. It's impressive what Dunn does with so little.
However there is another side to this as well. It still is so little. The sounds are very dry and hearing the dynamics, shifts, and squalls as source material only makes me imagine what someone could do to this with some decent effects and editing. It could be so much more than what it is. It's in this case that I feel like the material is held back by the overarching method for producing sound.
Whatever your thoughts on process and execution rest be assured this release will expose you to some intense experimental sound with no strings attached. Dunn continues his unflinching journey into abstract sound here and if you've been exposed to the project before you know what to expect. If not, get ready for a rocky ride.
| | |
| --- | --- |
| Composition: | |
| Sounds: | |
| Production Quality: | |
| Concept: | |
| Packaging: | |
| Overall Rating: | |