Peter J Woods & Instinct Control – What We've Done 3"CDr
5 September 2013
xdementia
2 Comments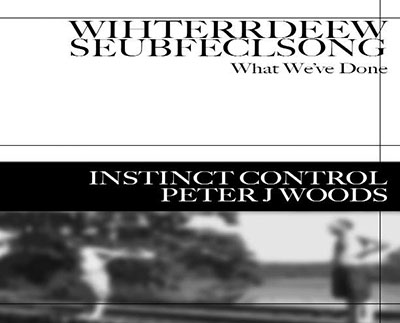 Peter J Woods & Instinct Control – What We've Done 3″CDr
What We've Done is a pairing of two midwest artists Peter J Woods hailing from Milwaukee and Instinct Control from Chicago. They both produce experimental music but in slightly different forms. Wood's sound is usually more composed with a darker touch and Instinct Control's is more free from and improvisational.
This disc collides the styles of the two artists very well working off the strengths of each. Instinct Control's usually ultra-dry and raw sound is mixed with Wood's manipulated and morphed textures to form compositions that ebb and flow. Slowly devolving from bare bones sound fragments to heavy alternating tones. As a 3 incher it clocks in around 20 minutes but explores a variety of atmospheres, textures, and ideas to create a deep journey through the shared psyche of these two artists.
I might even say that this result is greater than the sum of it's parts because the styles just converge so well. What We've Done will appeal to fans of experimental music with an atmospheric and academic edge. Excellent work.
| | |
| --- | --- |
| Composition: | |
| Sounds: | |
| Production Quality: | |
| Concept: | |
| Packaging: | |
| Overall Rating: | |