+Dog+ – Greetings from Moot Point California CD
11 September 2013
xdementia
No Comment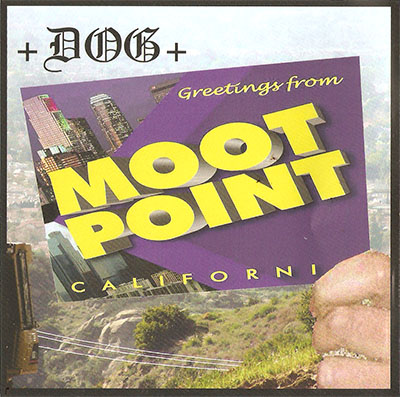 +Dog+ – Greetings from Moot Point California CD
+Dog+ is a project that always seems to perplex me. I'm always on the edge of whether or not I'm into it and with their latest effort Greetings from Moot Point California they make things even more difficult. First off the absolutely terrible graphic design on the packaging is a site to behold. Not just obviously photoshopped, but badly photoshopped the art makes use of fonts in the most atrocious of ways. The color scheme is ridiculous as well; combining light blue, dark red, and yellow cartoony fonts makes me think I am about to open a happy meal or something.
Once I got past the design – which took me probably like 8 months to do – I finally feel like I can review the audio on the disc without bias. First off, I liked the direction +Dog+ was going in the last few releases I reviewed but this unfortunately steps away from the more aggressive power electronics that the project was beginning to employ.
The tracks feature droning layers of distortion, humming feedback, wavering pulses and oscillations with the occaisonal scrap metal rambling. Unfortunately when the junk elements do appear they are mostly dry and don't mix in very well with the music (see Love Is). The only track which stands out is the closer Our Souls Being Sucked Into Space which features some strange and wonderful textures and weird sounds. Yet at not even 3 minutes it is not nearly enough to save the album.
This album marks +Dog+ returning to a more mediocre state than where their previous efforts were starting to lead them. There's nothing on Greetings… which particularly jumps out as being a great effort, the tracks tend to all fall into the mediocre category. Not terrible, but not really that interesting or engaging; just kind of there.
| | |
| --- | --- |
| Composition: | |
| Sounds: | |
| Production Quality: | |
| Concept: | |
| Packaging: | |
| Overall Rating: | |