M. Todd & L. Kerr – Beyond The Threshold CDr
12 September 2013
xdementia
No Comment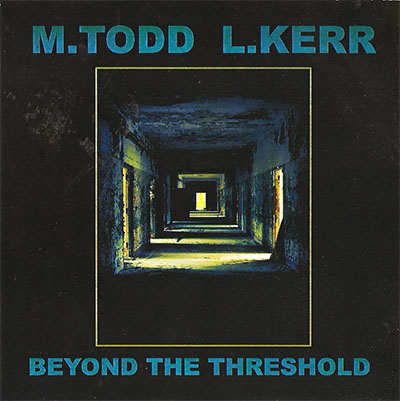 M. Todd & L. Kerr – Beyond The Threshold CDr
Larry Kerr is a member of the massive death industrial unit Steel Hook Prostheses while M. Todd is the man behind the project Transcendent Device. I don't have any experience with the work of the latter project but if the work of SHP is any indication as to how this will sound I will guess this is going to be a descent into pure darkness with little hope. Before delving into the sound though, I want to mention that I really like the title as it reminds me of Megaptera's Beyond the Massive Darkness which I can guess is probably an influence here.
Yet the sounds tend to be much less death industrial and much more dark ambient. Although the album is split into eight tracks they are merely named after their unique running times which to me amounts of having no name at all. In addition, the album plays out more like one long track with pauses here and there rather than a series of songs. I see them more as "movements" to form a larger whole.
The sounds that can be found here are dark, deep drones with samples interspersed here and there. Low frequencies are the bulk of what appears with subtle industrial tinges fraying the edges. The quality features everything drenched in reverb with no textures or layers up front which I think does hold back the recording a bit because it makes everything sound muffled and decreases the effectiveness. Deep tones are dreary, but high frequencies are creepy as well and can really open up a listening space to create a vast emptiness.
Overall a decent collaboration which shows potential but is held back by the quality and recording styles that are employed. It is however, most certainly a dark ride and is quite suffocating in its minimalism. Perhaps that's what the artists intended and if so, they have succeeded.
| | |
| --- | --- |
| Composition: | |
| Sounds: | |
| Production Quality: | |
| Concept: | |
| Packaging: | |
| Overall Rating: | |