Amalgamated – Spark II 3"CDr
15 September 2013
xdementia
No Comment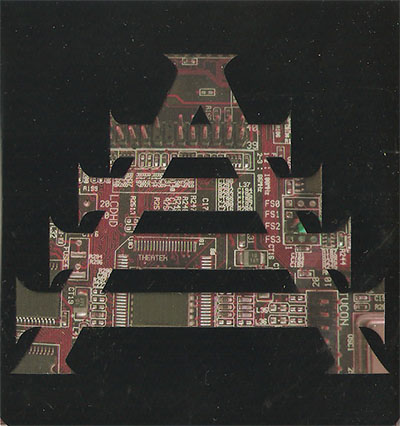 Amalgamated – Spark II 3″CDr
Spark II is the second installment of the Spark series from the artist Amalgamated and immediately noticeable is the link in packaging design. It's unique yet tied to the first volume as well using a vinyl sticker on the front of the case to create negative/positive space with the inner insert artwork. It works and is striking to the eye as well as providing something different.
The music inside is of the experimental electronica variety which isn't normally my thing but I have to say this is pretty well done. I vaguely remember the first volume but this one seems more interesting so far. The first two tracks are deep drone with some electronica influences thrown in, slow beats, glitchy electronics etc.
The real oddball here is Musst that features more of an 80s vibe. A dancy beat, pumping horns, all of which eventually fall apart into a weird convergence of experimental noise. The bulk of the disc is taken by the epic 10 minute closer Aura Siphon which is more laid back and less experimental than the other tracks. It combines the styles of post-rock and electronica featuring interweaving guitars and pianos prominently.
Spark II is a light and enjoyable listen. Creative yet playful and even somewhat accessible the album successfully presents the world of Amalgamate a place that is interesting to visit from time to time. This is one for the eclectic music fans out there who enjoy an amalgamation of various electronic music styles.
| | |
| --- | --- |
| Composition: | |
| Sounds: | |
| Production Quality: | |
| Concept: | |
| Packaging: | |
| Overall Rating: | |