Compactor – Desensitization Reprocessing C32
23 September 2013
xdementia
No Comment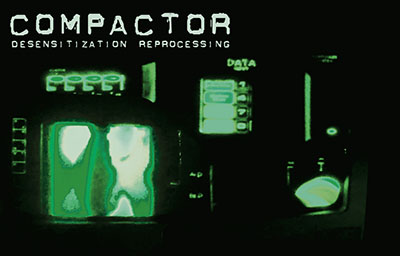 Compactor – Desensitization Reprocessing C32
Compactor is the project of Derek Rush the man behind many impressive music/noise projects including A Murder of Angels, and Dream Into Dust. Although A Murder of Angels is pure dark ambient you will find much more traditionally music leanings with Dream Into Dust, split the difference and that is where Compactor fits in.
The project combines more industrial underpinnings with new school electronica and power noise to create a varied mix of styles. But Desensitization Reprocessing is anything but a rehash of 4-to-the-floor beats and distorted techno anthems. What Rush has crafted here is layered and organized tracks of carefully designed and placed sounds that not only make your head nod but also make you think.
Although the album kicks off with the fast and more frantic pacing of Lacerations and Battered Rush slows things down for the closer of side A in Multiple Fractures which is probably the most effective track here because of the interesting mix of percussive elements contrasting with morphing sonics that somehow manages to compliment the structure well.
Side B is much slower in general and appeals to my sit-and-listen habits more. Three tracks that merge slow beats with creative sound design to form a detailed cinematic approach that works well for what Rush is attempting here. The style seems to allow room for exploration of much more interesting sounds than most dark ambient or traditional death industrial would usually allow.
Desensitization Reprocessing is definitely a great record which can be enjoyed by a wide range of electronic music fans. More traditional raw, lo-fi noise fans might not find their welcome here but those who also enjoy a wider range of music like Skinny Puppy, Converter, or Strom.ec might find that they are drawn to the honed style and high production that Compactor achieves.
| | |
| --- | --- |
| Composition: | |
| Sounds: | |
| Production Quality: | |
| Concept: | |
| Packaging: | |
| Overall Rating: | |