En Nihil – Crimes C60
26 September 2013
xdementia
No Comment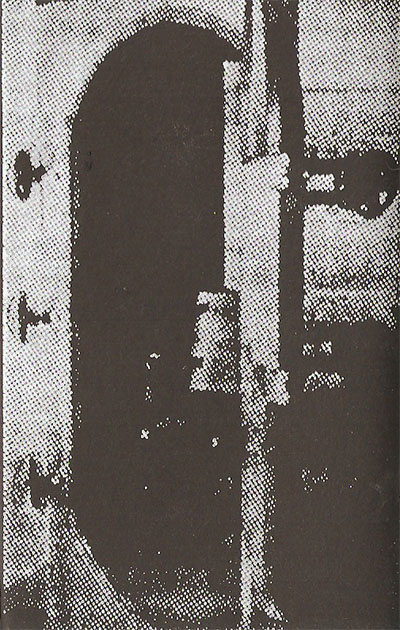 En Nihil – Crimes C60
Remember the scene in Terminator 2 when Sarah Conner has a flash forward into the future and everyone's skin is blown off their skeleton? Well hitting play on En Nihil's Crimes is very similar to experiencing that moment, but luckily my skin bounced back after being almost blown off by the intense barrage of distorted walls that assaulted me. The production of this tape is absolutely massive and it's noticeable immediately.
Worth mentioning is the beautiful artwork and manufacturing offered by Phage Tapes with a thick matte silkscreened j-card and a red labeled tape. The art is simple but the label always tends to impress me with it's attention to detail and bold materials. Crimes contains Part 1 & 2 yet it is melded together as one long track with the same thing on both sides of this tape. I believe that this tape is the first part of a trilogy but I'm not sure of the details behind it.
The track is an intense wall of industrial bass driven noise. It's extremely overdriven, and as a result so many possible details are difficult to discern but those have been passed up for a production that results in pure heaviness. Although the first part of the piece is rather dry it succeeds in creating tension, and setting a new precedent for the listening space in which later evolutions take place. Once the track starts to evolve the listener has become accustomed to the stasis that the barrage of frequencies has established.
The track doesn't change drastically throughout but instead features subtle shifting in frequencies and pulses. The restraint and transitions are especially poignant and well executed which definitely contributes to much of the success of Crimes. I especially like when the overdriven noise is dipped down a bit for delayed motor type sounds which overtake the mix to add some much needed texture shifting to the composition.
Crimes is an excellent tape which utilizes subtlety to it's advantage on all accounts. The entire vision of the project is consistent and successful in it's execution. Highly recommended for any fan of noise or death industrial.
| | |
| --- | --- |
| Composition: | |
| Sounds: | |
| Production Quality: | |
| Concept: | |
| Packaging: | |
| Overall Rating: | |