10/31 – Spettro Family, Theologian + more!!!
28 September 2013
xdementia
No Comment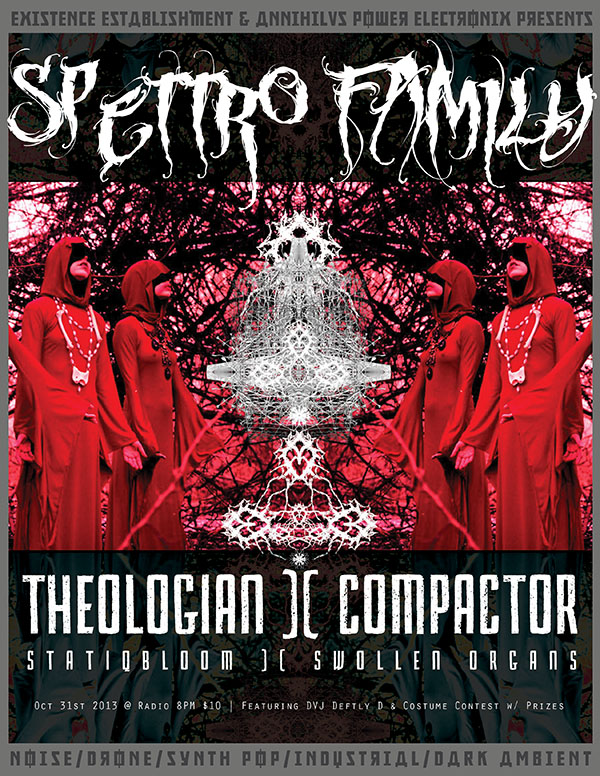 ((((Facebook Event Listing))))
The Artists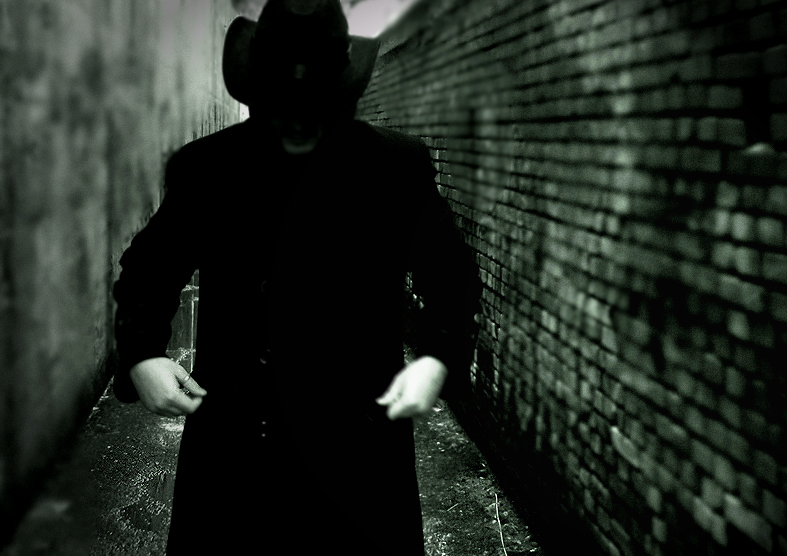 Spettro Family (Salerno, Italy)
Spettro Family – Brasov Black Biserica (TutRur 2012)
In 2010, the sole man behind the music, Stefan Iannone, took a trip into the Carpathian heart of Romania — a place that exists seemingly cut off from the rest of Europe in nearly every sense; so cut off, in fact, that it contains a large percentage of Europe's last intact wilderness, and no doubt is a place whose people live within a culture that is at least moderately removed from most of the West in meticulous details. In short, this was Transylvania — the birthplace of some of the darkest legends (and realities) known to man today. Perhaps it was a bit of culture shock that led to the inspiration behind the many of Spettro Family's compositions on this release, as can be seen by Stefan's note on one of the inserts that "…I saw places, met people and heard stories beyond your imagination." Of course, given the stubbornly traditional culture of Romania, I'm sure that the age-old skill of story-telling around local legend is still alive and well there — and most likely a bit removed from the stories of their countryside that we're familiar with.
A project since 2008, we don't know much about this enigmatic figure apart that he takes long walks at night in the woods and he does not like garlic very much. Anyway Spettro and the guy from Vade Retro records should be the same person; at least seems so. It might be because he has been living in a presumably haunted house all his life that Spettro Family succeeds in creating seemingly without effort the most truly haunting music, both bringing back to life the magic of Goblin's giallo/zombie flick soundtracks, and channelling the spirits of the big synth-worshipping Italian post-industrialists.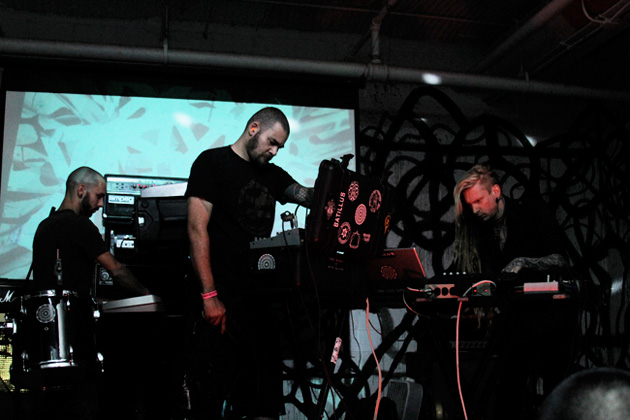 Theologian (New York, NY)
Theologian – You Are At The End of the World
THEOLOGIAN began in 2009 as the solo industrial project of Lee M. Bartow, following the dissolution of his long-standing deathindustrial/power electronics endeavour, NAVICON TORTURE TECHNOLOGIES(NTT). First releasing a slew of CD-Rs on his own label, ANNIHILVS POWER ELECTRONIX, Bartow produced a limited cassette with Providence-based DANVERS STATE RECORDINGS, the tape label run by Andrew Grant of THE VOMIT ARSONIST, and found a home with the incomparable CRUCIAL BLAST for the first full-length album, which was released concurrently with a digital EP, featuring the very first material recorded under the THEOLOGIAN name, in 2010.
In autumn of 2012, THEOLOGIAN released a four-song CDEP with HANDMADE BIRDS, the label run by R Loren of THE PYRAMIDS, and a second full-length on CRUCIAL BLAST, both to general acclaim (receiving a vaunted 7.4 from Pitchfork). A stream of collaborative releases has flowed from ANNIHILVS since 2010, as Bartow seeks to broaden the project's conceptual and sonic spectrum. Collaboration had been a major element of the output from NTT, while THEOLOGIAN had been originally conceived purely as a solitary undertaking, but it became clear that working with other artists continued to be a source of creative fulfillment. To this end, Bartow recruited frequent collaborator Fade Kainer (INSWARM//STATIQBLOOM/BATILLUS/JARBOE), and former NTT stalwart Matt Slagle (SIDE 3/ADROY) to fill out a live configuration consisting of Bartow on vocals and noise, Kainer on synths, and Slagle playing a dual role as live drummer and keyboardist, while utilizing incredible visual projections created for the band by Brooklyn-based motion graphics designer NXR VISUALS, whenever possible.
THEOLOGIAN have been busy performing at least once a month during the past year, most recently with supporting slots for acts such as LOCRIAN and DEAFHEAVEN. Meanwhile, with autumn of 2013 approaching, CRUCIAL BLAST is primed to unleash SOME THINGS HAVE TO BE ENDURED, the label's fourth release from THEOLOGIAN, a CDEP created in collaboration with multiinstrumentalist Derek Rush (A MURDER OF ANGELS/DREAM INTO DUST/COMPACTOR/4TH SIGN OF THE APOCALYPSE/HIRSUTE PURSUIT), featuring vocals and additional components contributed by a number of extraordinary female artists. The trio of Bartow, Kainer, and Slagle is currently working on a megalithic double album for MALIGNANT RECORDS.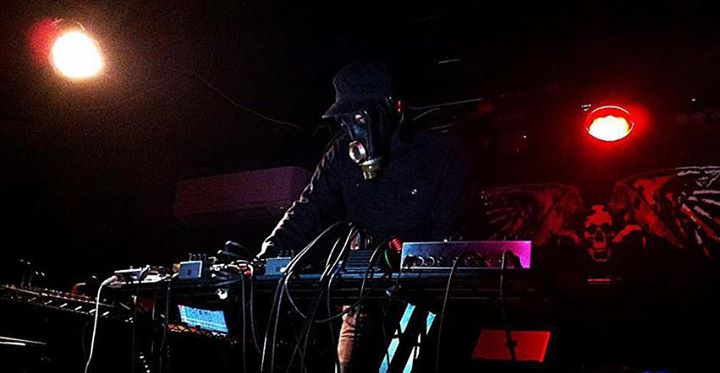 Compactor (New York, NY)
Compactor is a complex interconnected set of mostly obsolete equipment that is manipulated by its worker under company orders. The detritus of Industrial, Noise, Glitch, and other sonics are crushed into something else. the worker has no biography or history; the worker is a dehumanized drone who only exists to operate the machinery.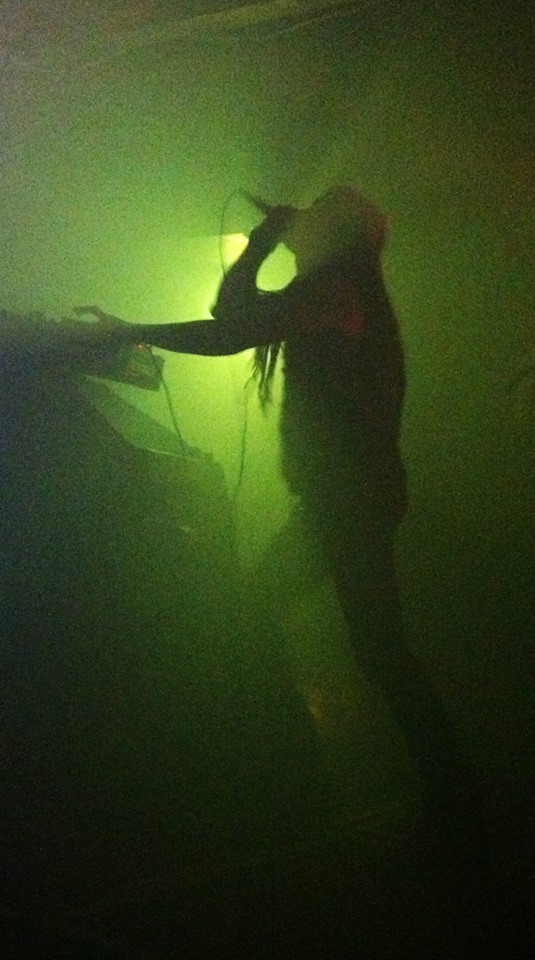 Statiqbloom (Brooklyn, NY)
Statiqbloom is Fade Kainer ( BATILLUS, Theologian, Jarboe, Inswarm) formed in 2001 as an outlet for experimenting and insomnia , the music was primarily instrumental, tracks that ranged from meloncoly and sparse, to dense and haunting. currently the music has taken a turn to a more structured beat driven songs with vocals. The newest self release of this material is titled "Mask Visions Poison " and will be available Oct 31st 2013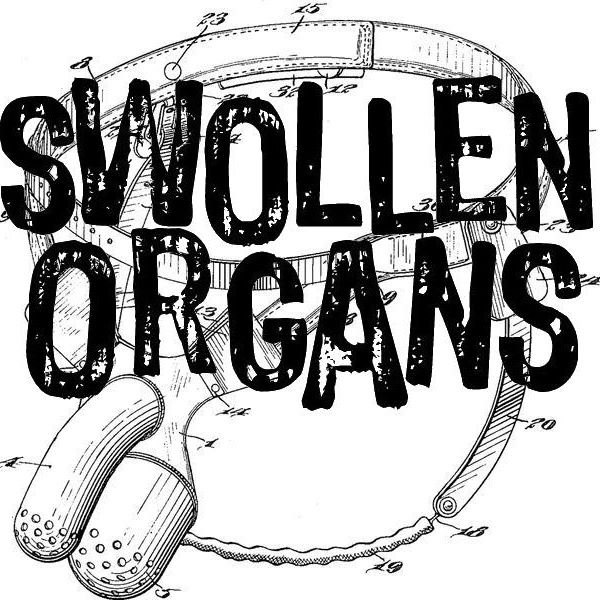 Swollen Organs (Long Island, NY)
Swollen Organs – With Lungs Erect
is the solo harsh noise project of Jimmy Aly of The Communion. It is grudgingly self-described as "Miscreant Electronics," a project of worship, in every/any sense of the word.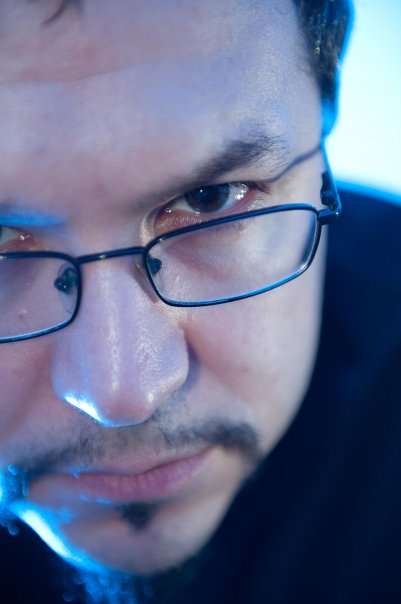 DVJ Deftly D (Cambridge, MA)
DVJ Deftly-D is the host of WZBC's High Voltage Circumcision Show and the multimedia club night ORDNANCE! as well as a member of numerous industrial, noise and multimedia bands including Nau-Zee-auN, Abstinence, Zero Times Infinity, Orgy Of Noise and Terrorfakt.
Deftly-D's current DVJ live video sets combine a triple projector set up and live camera feed with improvisation to work with the music.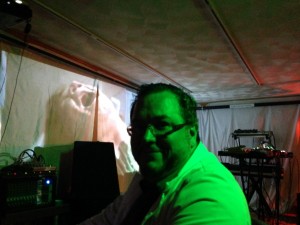 Costumes