Herpes Ö Deluxe – Tollerort Organisation Verfügt 7"
29 September 2013
xdementia
No Comment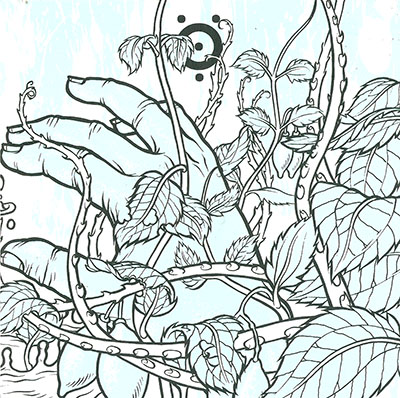 Herpes Ö Deluxe – Tollerort Organisation Verfügt 7″
Divergent Series is a Boston based label (soon to be relocating to San Francisco) from the man behind FRKSE who has been reviewed here before. I'm not familar with Herpes Ö Deluxe but they are said to be "Swiss Legends" from the label. Skepticism set on high as I delve into the tracks.
Well the words of the label could ring no truer because immediately the record impresses with Friester Auf Der Lauer an incredibly weird yet creepy layering of strange sounds culminating in an experimental industrial/power electronics style. Like Haus Arafna combined with Suddan Infant it's an odd mix but beautifully layered and extremely effective. Sickened and odd the sounds slither over you like tentacles reaching for the parts of your body you don't want them to touch.
Side B contains Kauend Hunter Mauern a track drenched in a low overdriven drone and sprinkled with creepy field recordings of children, maybe not quite getting along. Eerie synth drones build and intensify as the track goes on.
Side B is a lot more basic and raw then the very layered side A but the record is very deep and interesting despite it's short running time. Seven inche releases are neat but it only ever gives you a small taste of a band. Worth mentioning is the impressive design and printing on this puppy which plays out more like a stoner rock record than your typical power electronics photocopied fair. An intriguing release on many levels and definitely leaves me being very positively curious and interested in hearing more from the project.
| | |
| --- | --- |
| Composition: | |
| Sounds: | |
| Production Quality: | |
| Concept: | |
| Packaging: | |
| Overall Rating: | |