Grunt – Europe After Storm CD
30 September 2013
xdementia
No Comment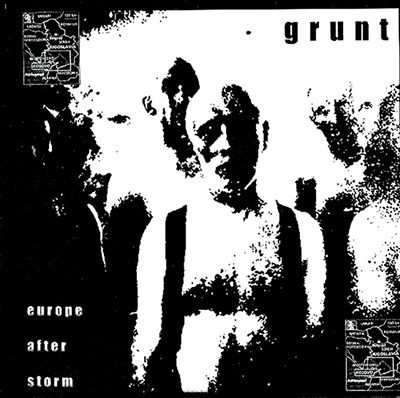 Grunt – Europe After Storm CD
Industrial Recollections/Force Majeure
This album represents the second re-issue of Europe After Storm. Tracks 01-04 re-mastered from the original Europe After Storm tape released by Spite Recordings USA in 1998 limited to 50 copies. Tracks 05-07 unreleased studio material, tracks 08-11 live at S-Osis/Turku/Finland, 1999. The first re-issue was of the same titled CD released in a limited edition of 489 copies in 2001. This edition features the same artwork as the 2001 re-issue but is instead packaged in a jewel-case and limited to 500 copies.
I feel like I have to transport myself back to 1998 to truly write an effective review of this material. In the top 40 charts it was the ladies taking over in both the US and Europe; Celine Dion, Madonna and Natalie Imbruglia. In noise/power electronics of 1998 Merzbow released both Aqua Necromancer and Tauromachine, Sutcliffe Jugend released When Pornography is No Longer Enough and Brighter Death Now released Greatest Death; the seminal death industrial greatest hits album. Also important is that Grunt released his Someone Is Watching tape. In political news US President Clinton was accused of sex scandals in the White House, but possibly most importantly in Europe the Serbs battled ethnic Albanians in Kosovo.
It's probably the latter point that has the most to do with Europe After Storm but 1998 was a time when styles were still being defined, clarity had not yet formed in noise/industrial in the same way that it has today and current landmark albums were still being minted. Is Europe After Storm one of those albums? Well I can say it certainly is for Grunt.
Obviously the album has most in common with Someone Is Watching, a tape which was released in the same year and has very similar production and style as Europe After Storm. Somehow Europe After Storm stands out to me as more massive, more epic and more genre defining than it's companion release Someone Is Watching. Perhaps it's the subject matter which can't be separated from it's time and place as much, or maybe it's the less variety in the tracks and the more unwavering auditory experience. The live tracks also add an intensity to the album that is tough to match in a pure studio effort.
Certainly one thing can be said for Europe After Storm is that it is a mandatory release for any fan of power electronics history to have in their collection. As far as political PE goes this is the top of the heap. A well needed re-issue and even today it's as relevant as ever in sound and concept and should be heard by all aspiring power electronics artist before they embark on their own journey into this sordid world.
| | |
| --- | --- |
| Composition: | |
| Sounds: | |
| Production Quality: | |
| Concept: | |
| Packaging: | |
| Overall Rating: | |