Boar – Dead Existence CD
7 October 2013
xdementia
No Comment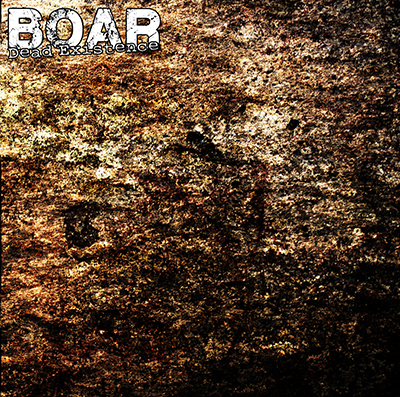 Boar – Dead Existence CD
Boar is a project I have no prior experience with, so I had no idea what to expect from this disc. The design was good enough and on giving it a spin I found it offered up some crusty noise destruction.
The first few tracks are filled to the brim with heavily overdriven textures. Somewhere between wall noise and cut-up attacks. The overall style reminds me of bands that create "black noise" like Demonologists and T.O.M.B. but perhaps with less black metal influence.
On track 5 Boar finally changes up his relentless sound with Angel Skin Decaying. He steps back and lets his textures and feedback breathe a bit creating an eerie death industrial dirge. It's great work and I instantly find that I was wishing he employed this style more often. Sadly it's the shortest track on the disc.
Luckily Boar chooses to end Dead Existence on a strong note with Walking Love Corpse a track that not only features a decent show of harsh noise manipulation but also awkwardly switches to a texture of floating drones. The drones are kind of out of nowhere but at least are a welcome respite from the harsh noise insanity.
Dead Existence features an array of excellent crunchy harsh walls of sound but it's when Boar steps back and focuses on the more subtle aspects of his sound that he is most successful. The relentless harshness and consistency in texture tends to get a bit dry over the course of this 55 minute opus, but it might be just what certain fanatics need if they are feeling particularly raw and crusty.
| | |
| --- | --- |
| Composition: | |
| Sounds: | |
| Production Quality: | |
| Concept: | |
| Packaging: | |
| Overall Rating: | |