En Nihil/Striations – Split C20
7 October 2013
xdementia
No Comment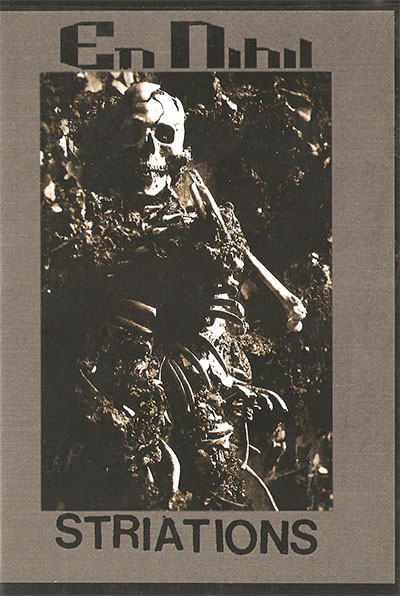 En Nihil/Striations – Split C20
First off, I freakin love the packaging of this bad boy. A big, soft, white poofy case with darkened artwork and a slot for the tape. It's simple yet effective much like the music here.
En Nihil kicks things off on side A with his usual devastatingly heavy production style. Absolutely pummeling repetitive industrial loops sprinkled with various drowned elements of scrap abuse. Each track has it's own plodding rhythm and will destroy your mind. Like a meeting between Brighter Death Now and Wolf Eyes.
Striations follows up on side B and features some more varied power electronics tracks, each one titled after the name of a woman. The production quality is a lot more mid ranged than En Nihil's bass heavy assaults but it still works. I like how varied the tracks are, they can go from sweeping high feedback trails to chugging delays and then into some kind of mid range pushy tones. Vocals are present here but they mix in well.
Really awesome tape all around. Although perhaps the artist's contributions don't make a perfect match in tonality they mix together pretty well in concept/aesthetic and they both offer very strong material here. Excellent work and highly recommended for industrial/pe fans.
| | |
| --- | --- |
| Composition: | |
| Sounds: | |
| Production Quality: | |
| Concept: | |
| Packaging: | |
| Overall Rating: | |