Crown of Bone/Tenebrious – Epitaph Crusted Black CD
9 October 2013
xdementia
No Comment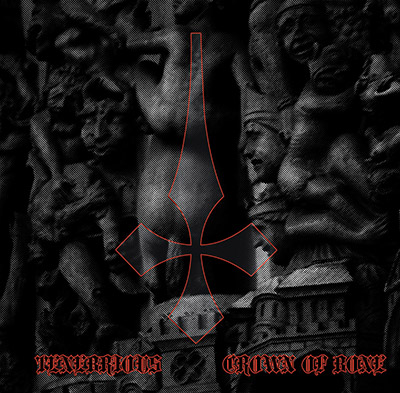 Crown of Bone/Tenebrious – Epitaph Crusted Black CD
Who would have thought that Indiana would become a hotbed for black noise? Just when you thought all was lost with the world something as surprising as a split between two black noise projects from Indiana shows up at your door. Released by the ever growing force Obfuscated Records this CD is sure to impress any fan of the genre.
Tenebrious is up first with what I would consider a more traditional showing of black noise as coined by the late great Aural Pressure webzine (maybe they didn't coin it but that's where I first came across the term). By traditional I mean staying within the realm of dark ambient but having a raw, cold edge to the sound much reminding me of perhaps my favorite black noise act Anapthergal. There's a good mix of source material here ranging from film and field samples, subtle blasts of noise, lots of reverb and synth drones. The sound is very organic and somewhat lo-fi but it works.
Crown of Bone embraces the new school black noise. This is the school of Demonologists, Deathstench, and T.O.M.B. Although perhaps the first two minutes of Chambers of Death & Decaying Flesh is an exception to the rule with it's excellent metallic textures it's almost too bad when the track blasts in with it's whitewashed wall noise vacuum attack. The new school of black noise has more to do with wall noise and reverberating black metal vocals rather than one of lo-fi textures and creeping atmospheres. I generally don't find it as effective and the bulk of CoB's tracks are long passages of reverberating bleak noise.
This is a solid split between two acts that fit together well. I definitely enjoy how the two different styles of black noise are captured quite accurately on this disc. Although my taste tends towards the work of Tenebrious I'm sure a lot of fanatics will get enjoyment out of this disc. For people into both noise and black metal.
| | |
| --- | --- |
| Composition: | |
| Sounds: | |
| Production Quality: | |
| Concept: | |
| Packaging: | |
| Overall Rating: | |