Dajjal – De-Evolution In Simulation Generators C90
10 October 2013
xdementia
No Comment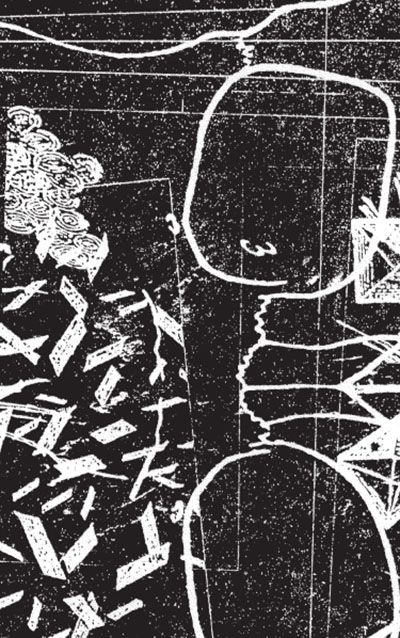 Dajjal – De-Evolution In Simulation Generators C90
Embracing a full and intense sound Dajjal presents an intense attack of heavy harsh noise that utilizes what may be modular synthesizers and fx to create textured beds of sound.
Side A begins with a booming bass surge and eventually evolves into a full-on attack of noise and texture that is harsh but also reverberating. The production is very dense but somehow there is also plenty of space as well. As the track continues oscillators attack but they sound more like broken glass being shoved into a lawnmower. Somehow they morph into an almost ethnic chant.
Side B presents similar sounds but in more of a start/stop pummeling. The sounds are so similar to the first track that they've lost some of their snap at this point, but at least they're dealt with in a different compositional manner. Because of the compositional style here there isn't really much flow and the track seems much more improvisational which doesn't work as well for the project. The sound ideas on this side just lack the effectiveness of the first side and grow old fast.
It seems that when Dajjal really focuses on composition and evolution he is quite successful in delivering an effective piece as featured on side A. But when dealing with free form improvisation, as it appears he is doing on side B it becomes dry and uninspired. Of course it might be no coincidence that this lies in sync with exactly my personal tastes as well. Do with that as you will.
| | |
| --- | --- |
| Composition: | |
| Sounds: | |
| Production Quality: | |
| Concept: | |
| Packaging: | |
| Overall Rating: | |