Goat Thron – Skrajne Uplodlenie! CD
25 October 2013
xdementia
No Comment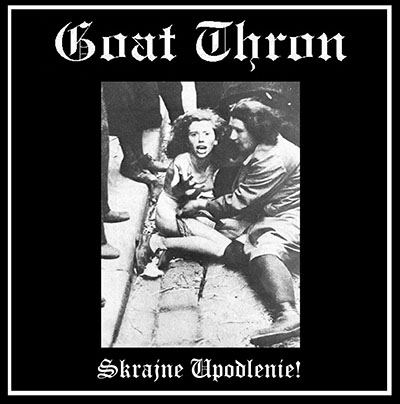 Goat Thron – Skrajne Uplodlenie! CD
Goat Thron is a project that has quite the sordid past and present. The project was started as a raw black metal entity in 1999 by creator Dagon. However, in June of 2000 Dagon decided it was time to go so he hung himself and the project came to a screeching halt. However, in 2004 one of the other members Funeral, decided that he would resurrect the project but only with a noise and industrial sound refusing to play black metal ever again under the name.
And so we have Skrajne Uplodlenie! which translates to Ultra Humiliate! and delivers about an hour of experimental industrial noise atmospheres housed in standard jewel case packaging. Worth mentioning is that the art is plastered with holocaust photography from WWII so depending on your stance this could easily offend. Keep in mind this imagery is coupled with laughable broken English and spelling errors resulting in track names like Destroyed Realisty and You Will Fucking Bow Me! – do they mean "blow me" or "bow to me"?
My focus is always to the sound though and as far as that goes Goat Thron delivers wholeheartedly. Many of the tracks here clock in around 7 minutes on average but you barely even notice it because these are some carefully layered and composed tracks. Starting off strong with the plodding industrial rhythms of I Will Beat You, Vile You, Humiliate You! they set the stage for a darkened atmosphere that pervades the remainder of the album. Each track has something special about it that puts it above average. The weird manipulated vocals in Detronization of Jewish God are a nice touch to what otherwise would be a standard drone track.
Although there are some questionable politics featured in the release you have to take it in stride with the goofy names and photos of the band members wearing urban camo. That said, the sound here is quite creative and thoughtful with excellent lo-fi atmospheres that are consistent and focused.
| | |
| --- | --- |
| Composition: | |
| Sounds: | |
| Production Quality: | |
| Concept: | |
| Packaging: | |
| Overall Rating: | |