Filivs Macrocosmi & Charadriiform – Ex Vivo CD
26 October 2013
xdementia
One Comment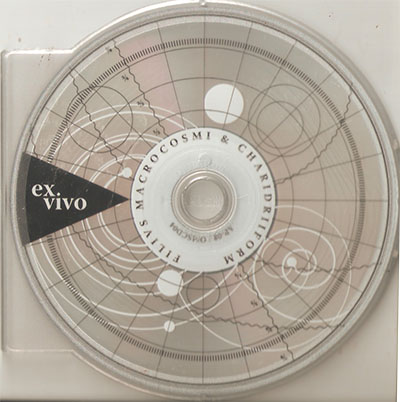 Filivs Macrocosmi & Charadriiform – Ex Vivo CD
I'm not sure how I feel about the packaging on this one. The CD looks nice, but it's only delivered in a clam shell case which I find kind of disappointing. No art, but I guess it follows along with the concept. Filivs Macrocosmi is Sergey Svistelnik who holds it down in Lithuania as one of the staples in the ambient/noise scene. Past projects include Old Monk's Saga, Fragments, and In Meditarium, yet it appears the only currently active project of his is now Filivs Macrocosmi. All of these projects tend to fall under a synth-ambient subgenre in some way so that is his specialty. The other project Charadriiform doesn't seem to yield much information at all and I am not familiar with it so I can't say what the contribution on this project might be.
The disc contains one track of spacey ambient music that begins with various synthesizer beds of sound and converges into a barrage of creepy low tones. The second half of the track is seemingly much less synth based then Svistelnik's previous outings and features light wisps of textures and very sparse echoing percussion. The track evolves in a subtle manner and keeps a consistent atmosphere throughout its duration.
This disc is quite enjoyable and will appear most to fans of modern ambient. It reminds me quite a bit of the work currently being done by Sky Burial. A great amalgamation of sounds and atmospheres.
| | |
| --- | --- |
| Composition: | |
| Sounds: | |
| Production Quality: | |
| Concept: | |
| Packaging: | |
| Overall Rating: | |