Scald Hymn – Primary Wilts C22
29 October 2013
Wade Clanton
No Comment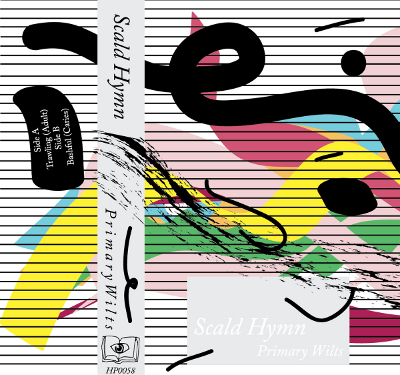 Scald Hymn – Primary Wilts
Scald Hymn is a solo noise project by Erik Brown, hailing from Massachusetts. Scald Hymn seems to be a newer project, with little info on his bandcamp, and no discogs page.
Something must be said about Holy Page's diversity in sound. One moment they can be releasing casio midi jams, and the next moment be releasing lo-fi noise bangers. This tape kind of hits you over the head with trudging feedback loop generated rhythms in its opener. It flips around rumbly bass and then back to weirdly organic squeaks. You can hear Erik working at the background clicking pedals underneath the sound. Even though I said this tape hits you over the head with its rhythms, it hits you with something soft – it's harsh, but it has a twinge of minimalism as well. Sounds build and dwell and stay in frame for as much as they need. Things keep moving, but not at a breakneck pace.
However, sometimes, as skillfully as this was performed, I feel as though the recording could use some work. It's lo-fi and I'm the first person to love that, but sometimes the audio fades from the speakers at an awkward time, like an accident. I feel like at times the whole speed and movement of the tape hinges off at those points, though they are far and few between. Other than that, it just sometimes feels like Erik is running out of ideas and just throwing things around to see how they react. In short, the main problems that I have with this tape come from its occasional sloppiness.
Scald Hymn is definitely going to be a fun act to follow in its future releases. This album is quite a satisfying and fun listen despite its few short comings. Pedal squeals, lo fi bass grumbles, feedback screams, a great variety of sounds to be had. The art is really fucking rad as well, I always really liked Holy Page's iconic scribbles, and it fits this release. The tape itself sounds great and is dubbed on chrome tape.
| | |
| --- | --- |
| Composition: | |
| Sounds: | |
| Production Quality: | |
| Concept: | |
| Packaging: | |
| Overall Rating: | |