12/14 – Blue Sabbath Black Cheer, Kintaan + more
3 November 2013
xdementia
No Comment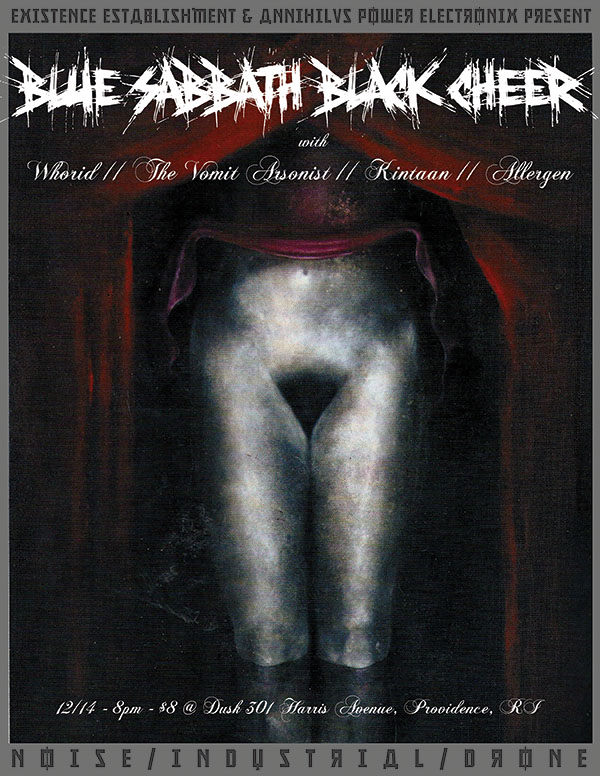 ((((Facebook Event Listing))))
The Artists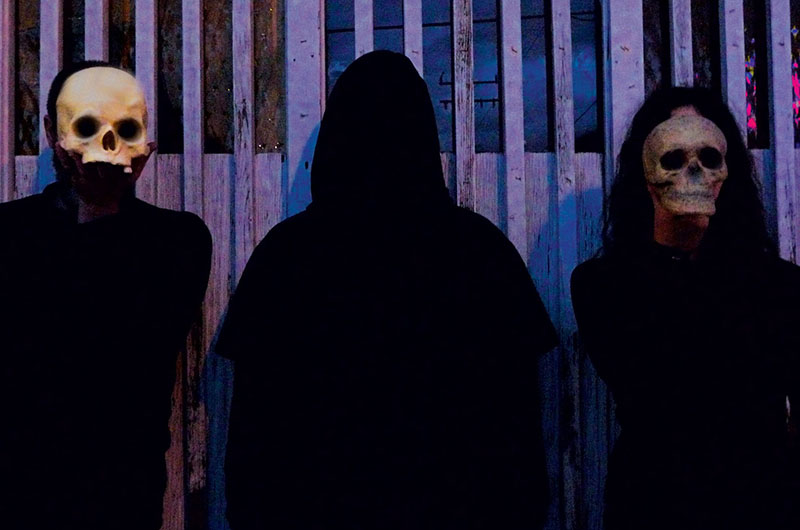 Blue Sabbath Black Cheer (Seattle, WA)
Blue Sabbath Black Cheer – The Sense of Violence
Blue Sabbath Black Cheer (BSBC) formed in winter 2005, by wm.Rage and Stan Reed, rehearsing after-hours in the Electric Heavyland (R.I.P.) record store in Seattle, Washington, before moving into an all concrete garage in the alley behind the record store, where they rehearsed incessantly for the next 2 years, much to the dismay of the nearby neighbors. In 2007, leaving "The Bog", rehearsals and recordings then took place for a short time in an old garage next to a lake until a 4′ rising of the lake destroyed the garage, equipment barely removed in time.
Since September 2013, BSBC has become a stripped down maximum-minimalist three piece hate unit featuring Stan Reed: vocals, oscillators, tapes, effects; wm.Rage: guitar, vocals, loops; and Gerald Hansen on bass and sub-atmospheres.
BSBC's sound, once described post-performance as "like Sunn O))) committing suicide," contains frightening atmospheres, processed layers of source tapes, and creaking, scraping, groaning metals set against deranged industrial guitar terrorism, screaming oscillators, nightmare vocals, violent drum rhythms, and all out Noise War.
The first BSBC performance was at the 5th Annual Victoria Noise Fest 2006 in British Columbia, Canada. Since then, Blue Sabbath Black Cheer has played over 50 shows in the Pacific Northwest region, toured the West Coast of the United States twice, and performed four more times in Canada.
Blue Sabbath Black Cheer has released over 15 LPs, 5 7"s, 30 cassettes, and 10 CDs, and has collaborated on recordings with such diverse artists as The New Blockaders, Nihilist Assault Group, Matt Waldron and irr. app. (ext.), Black Leather Jesus, Jon Kortland and Pig Heart Transplant, AstroMason (Hiroshi Hasagawa and Mason Jones), The Rita, Anakrid, Rubber(O)Cement, Du Hexen Hase, Crystal Perez (Pink Void), Geoff Walker (Gravitar, Basketcase), Scott Colburn (Wizard Prison), Chris Dodge (Spazz, Infest), John Lukeman (Drowner, Mutant Video), and Leslie Nichols-Rage (Numb Erone).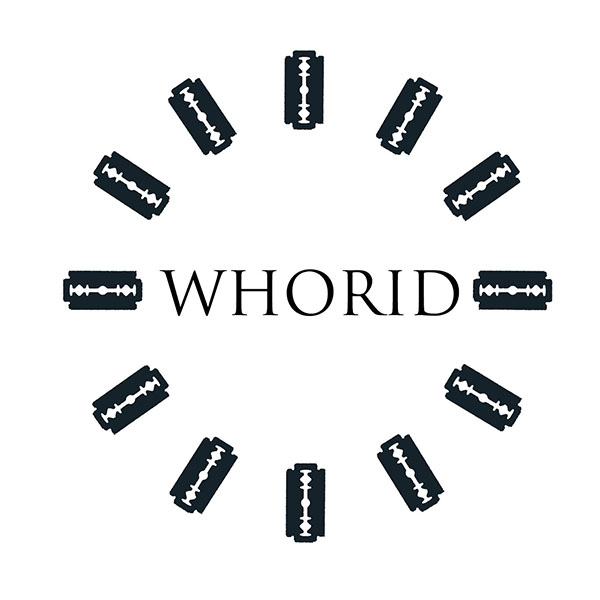 Whorid (Philadelphia, PA)
Stumbling blindly through your worst sexual nightmares and isolation you will find Whorid. Philadelphia based ambient power electronics project of Daniel Suffering. Themes of revenge and ruination enhanced by visions of self harm. Whorid began as a solo project in November 2012 and added one live performer Keycifer Blakk to the stage for blood letting and visual disturbances.
Now, completely solo, Daniel Suffering still brings forth extreme amounts of self harm with a sound distinct enough to bring you to your knees. Sharp synth tones with crushing noise, Whorid will disturb you and leave you to wonder "why am I still watching this?" I have such sights to show you.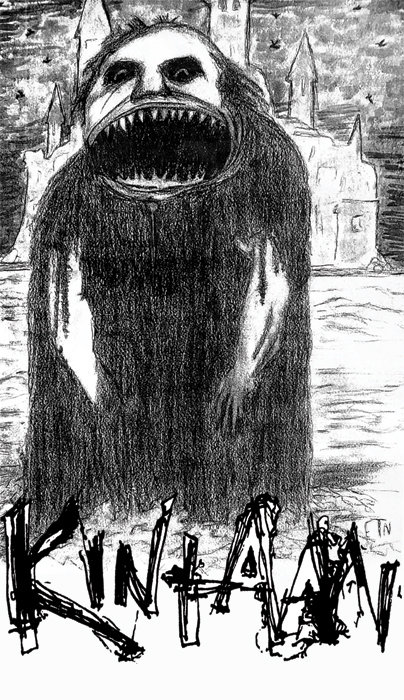 Kintaan (Providence, RI)
"Mind-expanding, drum & bass tectonic shifts washed in nightmarish effects. Kintaan are a trio from Providence, RI who drive an earthen, rhythmic push directly into the mangled, electronic ambiance of a Lucio Fulci gore flick. You will feel the dead weight of deep space crush your chest as the massive swells of distorto riffs, complex beats, synth hell-washes and hallucinatory, vocal interjections provide you, the listener, with your very own sensory deprivation tank for outer limit pilgrimage. If you've ever wondered what music made in a black hole would sound like; Kintaan's audio debauchery will provide an answer…of some kind." – Jay Snyder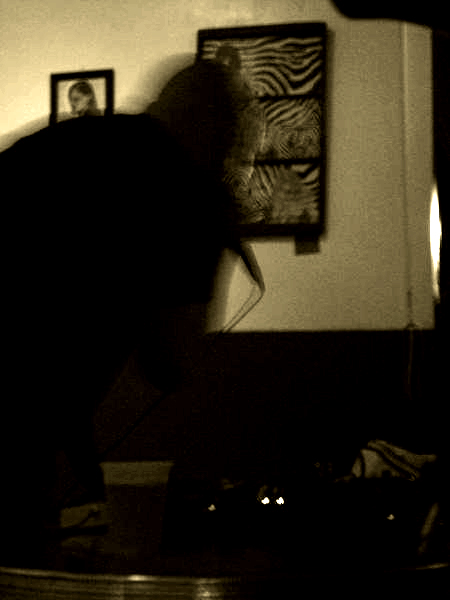 The Vomit Arsonist (Providence, RI)
The Vomit Arsonist – Go Without
After several years of recording various harsh sounds, The Vomit Arsonist (Andrew Grant) found his calling in the form of death industrial and power electronics. Hailing from Providence, RI, the project exists for the sole purpose of attempting to exorcise personal demons through the medium of harsh and violent sounds. The resulting exorcism manifests itself in a sound that Terror.lt called "…dark, oppressive, carefully constructed, and gushing with depressive aggression." The Vomit Arsonist represents pain, fear, depression, and any other negative emotion you can think of. You will not escape.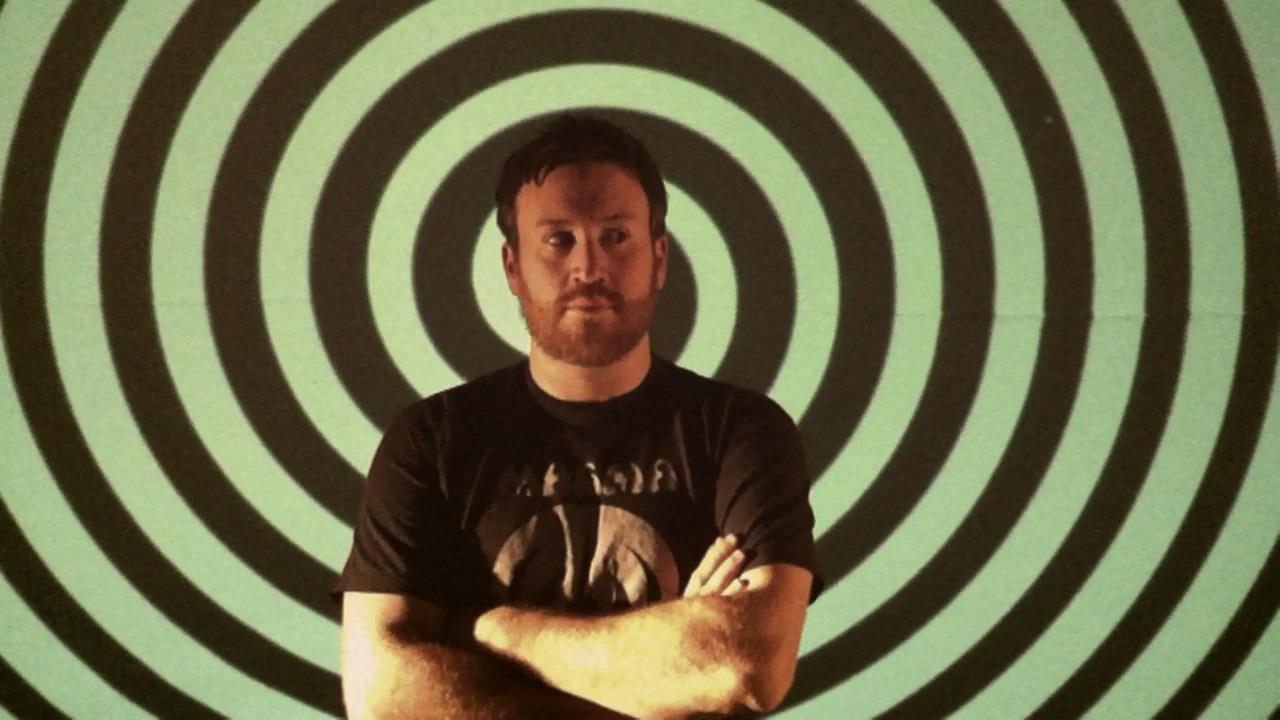 Allergen (Providence, RI)
Allergen is Dave Public who also plays under his own name as well as in local grindcore miscreants Suffering Bastard and power electronics unit Nurture Abuse.