Brume – Quicksand C70
6 November 2013
xdementia
No Comment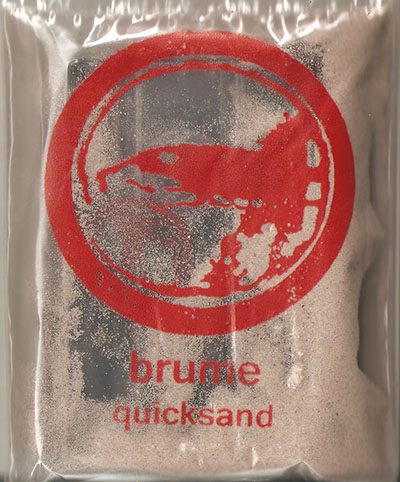 Brume – Quicksand C70
First of all, the packaging on this one. Hoooollllyyyyy sshhhhiiittttt!!! A sealed clear plastic baggy silkscreened and filled with sand! Inside the baggy is yet another sealed plastic baggy holding the tape so as to not get sand in it. Very well done. My only complaint is that it's difficult to preserve if you want to open it. I guess that means I suggest you buy 2 copies each, one to open and listen to and another for your collection.
This work is a bit different for Brume. It's much less in your face experimental music and more ambient/drone influenced, though it of course does have that avant garde flare that pervades all music from Christian Renou. Side A is especially low-key with subtle piano riffs fading in and out, being vaguely manipulated. There is a spike of experimental sound here and there but for the most part this is almost dark ambient music.
Side B is a little more towards Brume's traditional style but still very spacey and reverberating. Lots of wonderful moments and strange sonic landscapes. Approaching the end of the track Renou even brings the questionable piano riffs back into play in a brilliant move. It's odd because we have been so far removed from those sounds but something about them feels very familiar – like perhaps we have been listening to them all along.
What an excellent release from a master at his trade. Inside and out Quicksand delivers in every way possible. In addition 70 whopping minutes of music from this great artist is really something to get into. Highly recommended.
| | |
| --- | --- |
| Composition: | |
| Sounds: | |
| Production Quality: | |
| Concept: | |
| Packaging: | |
| Overall Rating: | |