The Dadacomputer – The Birth of 5XOD CDr
9 November 2013
xdementia
2 Comments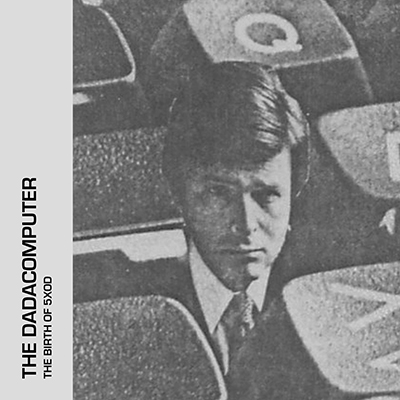 The Dadacomputer – The Birth of 5XOD CDr
The Dadacomputer was created in 1981 as an experiment in long-distance collaboration from Cardiff to Bristol which were separated by the Bristol Channel and are about 40 miles apart. The collaborators are Mark Phillips and Robert Lawrence who had met about 6 months earlier in Bristol due to Lawrence putting an ad in a record shop looking to work with similar musicians quoting Throbbing Gristle, Kraftwerk, Chrome etc as influences.
It took several years for the collaboration to finally be complete but on listening to this re-issue some 32 years later I would say they succeeded in their goal. The Birth of 5XOD encapsules the best aspect of 80s underground synth music. The style reminds me somewhat of Boyd Rice & Frank Tobey collaboration but less minimal. Rhythmic industrialized drum machine samples, synth riffs, scattered and awkward vocals, and some excellent melody lines all tie this material together to form an impressive body of work.
The highlights are numerous with the Automation mixing synthwave and punk together seamlessly, Multinational creating an ironic corporate music influenced electro atmosphere and Module which builds epic harmonies with somewhat somber melodies.
The disc plays out like a document but also provides us youn'uns – the year this was recorded was the year I was born – with a window into the past of underground electronic music. Highly recommended for fans of retro electronic music, throwback industrial, and 80s no-wave.
| | |
| --- | --- |
| Composition: | |
| Sounds: | |
| Production Quality: | |
| Concept: | |
| Packaging: | |
| Overall Rating: | |