Regosphere/Harold Shipman – Split CDr
7 December 2013
xdementia
No Comment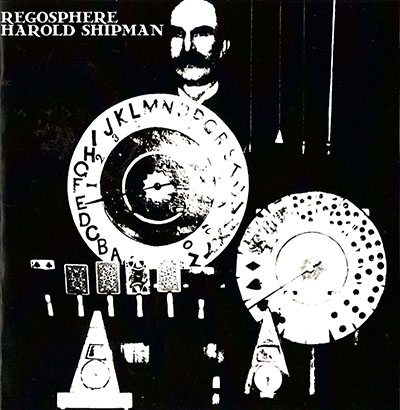 Regosphere/Harold Shipman – Split CDr
Combining the sound of layered synth centric industrial and barebones experimental harsh noise is not something you see too often, but the 43 minutes of this disc offer just that. The first track is the only Regosphere track clocking in at 18 minutes it's a tour-de-force of what Andrew Quitter does best. Carefully composed drones and noise merging and morphing over the course of it's running time. This is the kind of material I've come to expect from the project and it's just as effective and succinct as usual.
This is my first exposure to the project Harold Shipman which is apparently named after an infamous serial killer. In contrast the artist offers 7 tracks of varied experimental harsh noise. The material is a complete opposite to Regosphere's dirges and therefore quite jarring. Raw and simple the style dabbles in industrial and power electronics but for the most part stays within the realm of cut-up noise – yet once in a while meanders into experimental fuckery territory. I'm not too into this material, I've heard a lot of stuff like this and it tends to be quite forgettable.
Definitely a strange matchup on this one, something I believe will appeal to those more eclectic noise fans that like listening to different styles on one release. Solid material from Regosphere yet a bit of a rough introduction to the scatterbrained sounds of Harold Shipman.
| | |
| --- | --- |
| Composition: | |
| Sounds: | |
| Production Quality: | |
| Concept: | |
| Packaging: | |
| Overall Rating: | |