Shift – Hatet/Misären 7"
21 December 2013
xdementia
No Comment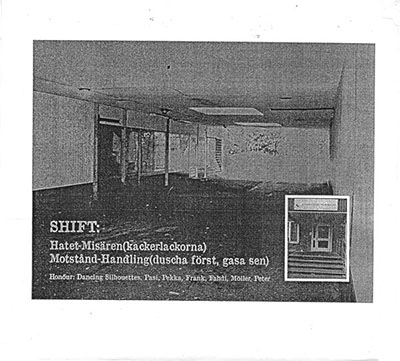 Shift – Hatet/Misären 7″
Filth and Violence/Untergeschoss
Return of the mighty Shift. And it is a welcome one. If you are not familiar with the works of this artist this is a fantastic starting point. Since this is a short record I'm going to try to keep this review snappy.
Side A contains Hatet-Misaren(kackerlackorna) which brings some dense death industrial to the stage. Unrelenting low-end kick drum pounding away while Shift's token noise attacks and newfound vocal rasping appears layered on top. An absolutely heavy affair and one that I wouldn't change for the world.
After some muffled spoken samples side B blasts in with Motstand-Handling(duscha forst, gasa sen) which first kicks off with a wall-noise undercurrent and then presents some interspersed industrial elements. Vocals are once again prominent here and it's a perfect balance of all these elements showing that Shift is really in his element at this stage in the game.
This is an excellent record and further solidifies the dominance of Shift's work in the current noise world. Absolutely devastating on all accounts and perfectly executed, Hatet/Misären is not only a great starting point but also the next obligatory chapter in this artist's saga.
| | |
| --- | --- |
| Composition: | |
| Sounds: | |
| Production Quality: | |
| Concept: | |
| Packaging: | |
| Overall Rating: | |