E.E. – Volcanist LP
28 December 2013
xdementia
No Comment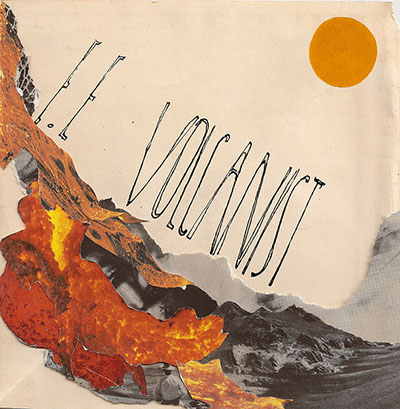 E.E. – Volcanist LP
E.E. is a musical group that hails from northern Ohio and features members Patrick Newman, Nate Meadows, and Wyatt Howland. The latter of the names is the only one I recognize because Howland is the man behind the mighty Skingraft. Beyond that I am not at all familiar with any of it but I can say this is a pretty neat looking LP. Each side is titled here with side A being Island Arc and side b being Popocatepeil and both consist of two tracks each.
Side A features textured drones which are quite sonorous. There is movement but the sound doesn't change much per se. A lot of building dynamics and frequencies along with an acoustic vibe to match the electronic feedback drone elements. Maybe some bowed cymbals and guitar drones in there for good measure? There's nothing concrete about this though, this is drone through and through. The whole side is quite shiny and glassy. Strange enough I don't hear a separation of 'parts' here so it appears that both Island Arc (Part 1) and Collisions run into each other seemlessly.
Side B kicks off with The Smoking Mountain which immediately heightens the emotive atmosphere of the album with wavering frequencies and glassy drones. Eventually a throbbing distorted layer is presented changing the mood to something more sinister. Once again the two parts morph into one long track but this side I am enjoying a touch more because it seems to make effective use of unresolved tension.
The only issue with the record – and this could perhaps be said for a lot of drone music – is that it falls into an issue of being rather forgetful. Don't get me wrong, these are some top-notch textures and sounds but the composition could use some work to feature something a touch more profound. Volcanist is a pure drone release and subsequently will appeal to the drone heads out there. It's a fine album with layered timbres and slowly evolving soundscapes that are all quite enjoyable. An above average debut for this 3 piece unit.
| | |
| --- | --- |
| Composition: | |
| Sounds: | |
| Production Quality: | |
| Concept: | |
| Packaging: | |
| Overall Rating: | |