Servile Sect – Glowing 10"EP
7 January 2014
xdementia
No Comment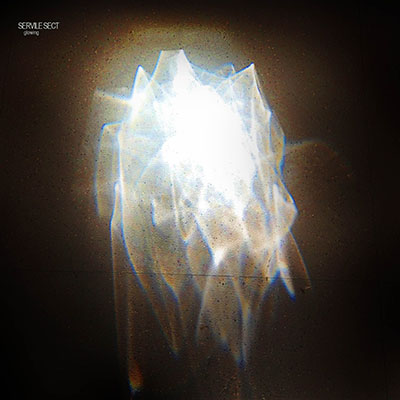 Servile Sect – Glowing 10″EP
Servile Sect is a project who I am completely unfamiliar with as is the label. Though immediately I am met with an impressive presentation of abstract artwork and absolutely mind blowing smoky vinyl that is really impressive. The packaging here gives the impression of a space-age techno project, or maybe something quite droney and glassy.
Yet what Servile Sect presents here is the polar opposite! With side A's A Frenzy of Cubensis we are greeted with a blast of pulsing lo-fi industrial with a very prominent black metal overtone. In fact, the more I listen to it the more I hear… are those… guitars? I can't tell if the percussion is electronic or not but the loops are repetitive and crude. Scathing cat-like whispers join the fray and we finally have the last ingredient for what I can only describe as 'black industrial.'
Sibe B kicks in with it's one long track entitled A Vortex Beyond Reason. The track begins with spacey ambient noise that once again converges into tremelo picked guitar riffage. Eventually the drums kick in and a structure is formed. About three quarters of the way through everything dies down to a slow moving drone with windy tones and ethereal vocals. I really like the last part of this track – probably my favorite part of the reocrd.
From Glowing I learned that black metal in noise isn't really my cup of tea. It just feels like this would have been stronger had it been a strait-up industrial record or a strait-up black metal record. Servile Sect seems to take the weaker aspects of both styles and combine them, which just doesn't quite do it for me. That said, this is not a bad album by any account. It is well put together in both composition and sound with a purposeful lo-fi quality that will appeal to fans of such. My guess is that fans of black metal who want something a touch more abstract and atmospheric will really enjoy Glowing though.
| | |
| --- | --- |
| Composition: | |
| Sounds: | |
| Production Quality: | |
| Concept: | |
| Packaging: | |
| Overall Rating: | |