Murderous Vision – Ghosts of the Soul Long Lost Vol. 2 2xCD
7 January 2014
xdementia
No Comment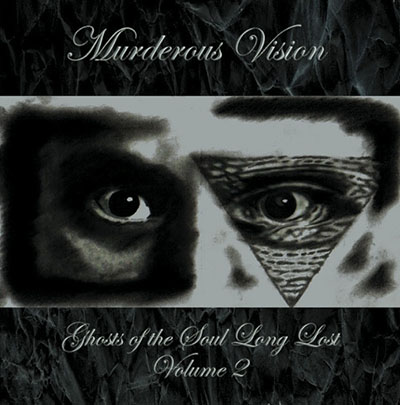 Murderous Vision – Ghosts of the Soul Long Lost Vol. 2 2xCD
Live Bait Recording Foundation
Ghosts of the Soul Long Lost Vol. 2 is another mammoth addition to the Murderous Vision catalog with a wealth of material sprawled across 2 full discs. For anyone that is not familiar with this long standing industrial act this album is a great starting point, or even to once again re-familiarize yourself with the artist.
The set starts off with a mix of martial industrial tracks that feature some creative sound design and competent compositional chops. The opener In Hell We Will Burn… Together offers a sample of how strong Petrus can be with understated orchestration and solid percussion programming. In contrast tracks like Order Born From Chaos can tend to be a little slower with more run-of-the-mill synth patches and repetitive plodding percussion, but it doesn't take away from the release as tracks like these keep a consistent atmosphere and further the descent into Petrus' dark vision. The disc evolves into more drone-based material in Unlocking Darkened Corridors which is the longest track on the disc clocking in at almost 15 minutes. Here, Petrus excels with glassy synth textures, restrained compositional evolution and of course a greatly heightened atmosphere and the result is not only successful but quite stunning. In a strange twist of genres, Petrus has introduced a plucked bass guitar into the mix here and even more perplexing, the addition actually works. It creates a subtle psychedelic vibe to the track and makes the atmosphere all that much more stirring and unique. In an even more suprising twist we are presented with the apt closer Heart Turned to Stone, Spirit Reduced to Ash which is a very well done neo-folk piece.
The second disc continues in a similar vein as the first. Mixing dark ambient, industrial and neo-classical. That is until Secular Assault is presented and presents a full rock band lineup complete with drums, bass, guitar and screaming vocals. It's an attempt at slow sludge rock and something very outside Murderous Vision's previous work. The track that inevitably stands out here is the 18 minute live recording of Unlocking Darkened Corridors. The recording quality is noticeably live yet it stands out as another great dark ambient outing. Murderous Vision's talents certainly lean to this side of things although there are some moments on this disc as well where the more militant industrial/neo classical efforts stand out as in the layering of From Deep Beneath The Frozen Seas.
Overall Ghosts of the Soul Long Lost Vol. 2 is a mammoth collection of material that is very difficult to pigeonhole into one genre. Mostly lying within the realms of militant industrial but wanders into dark ambient, industrial, and neo-folk territory quite often I would only recommend this for fans of all of the above. There is some creative sound work here but I think the album will most be remembered for its eclectic selection.
| | |
| --- | --- |
| Composition: | |
| Sounds: | |
| Production Quality: | |
| Concept: | |
| Packaging: | |
| Overall Rating: | |