+Dog+ – Fuck Faced Failures CD
11 January 2014
xdementia
No Comment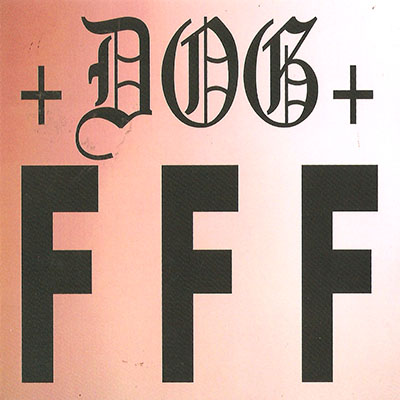 +Dog+ – Fuck Faced Failures CD
Yet another release from this prolific artist. I feel like +Dog+ is unironically trying to carve out his own nitch for terrible release artwork because the design on this disc is quite painful to the eyes. Yet the sound is more cohesive here and more effective than the last material I heard from the project.
FFF is 11 tracks in roughly 1 hour with styles falling into droning noise, or ambient noise however you'd like to phrase it. Slowly evolving tracks that are based on amp hum, feedback, or pure minimal oscillators.
It seems like +Dog+ has employed this style before, shortly after he had been releasing discs with short power electronics influenced tracks, but he is actually refining this new sound on FFF. I actually enjoy most of this material because there are plenty of slow evolving changes and layers. Although there are perhaps too many moments of pure stupid tone (the dull hum of resonant feedback tone in someone's gear loop) for my liking the bulk of the textures here are morphing and twisting in interesting ways. The only big issue is that the sound is always so consistent and none of these layers ever takes the forefront, this creates an problem because everything is so mashed together and always constant which results in not having any memorable moments.
FFF is further refinement in +Dog+'s sound and marks a step forward for the project. I would love to see some competent (even if very simplistic) visual design added to these sounds to form some kind of vision that could represent the caliber of sounds here.
| | |
| --- | --- |
| Composition: | |
| Sounds: | |
| Production Quality: | |
| Concept: | |
| Packaging: | |
| Overall Rating: | |