Human Larvae – Womb Worship CD
17 January 2014
xdementia
No Comment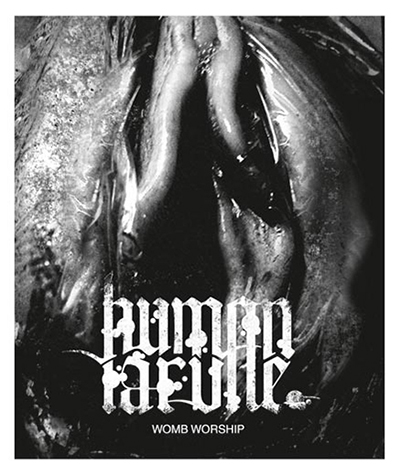 Human Larvae – Womb Worship CD
Human Larvae is an act that is anything but prolific. Since The Odour of Love – his debut release in 2008 – the Germany-based artist Daniel Burfoot has released only a handfull of material. I was very proud to help him on his first full-length endeavor Home is Where the Hurt Is which was released to critical acclaim and saw the burgeoning potential of a new artist who not only focused on song structure and evolution within the tracks, but an overarching conceptual element which seemed to pervade every corner of his work.
It wasn't until – almost 5 years later – L.White announced the release of Womb Worship, Human Larvae's second tour-de-force to be released in 2013. Having only released one other tape on the U.K. based label Unrest Productions in the interim; Womb Worship is sure to be the next volume in the evolving saga of this artist's existence. After having the disc for some months and delving into the dark with Burfoot's most intimate fears, emotions, and nightmares; I have to say Womb Worship lives up to all expectations I had for it.
For fans that have already heard Home is Where the Hurt Is they will know what to expect. Womb Worship follows a similar structure and aesthetic but shows subtle maturity in its details. Where Home is Where the Hurt Is focused on walls of noise and churning distorted layers, Womb Worship strips down the overdrive and presents layering that consists of throbbing industrial loops, harmonic drones, and harsh textures that provide a greater variety of timbres while at the same time keeping a dark and aggressive edge.
The pacing of the album is something to behold. Kicking off with a more plodding power electronics piece – during which the use of the piano reminds much of the works of IRM – the cacophony builds to a scathing pinnacle in Perdition from the Virgin's Mouth only to fall into a more atmospheric respite in the following track The Truth I Failed to See. Going from more ambient bass throbs to walls of intense distorted drones is just one effective use of transitions that Burfoot uses to further drive the album forward.
Once balls deep into Womb Worship the goods just keep coming. Tracks like Entwined in the Umbilical Noose use different metallic and machine sounds on top of bass surging to create a sound that calls to mind the later efforts of Strom.ec. Carefully chosen spoken word samples appear in Wrapped in the Warm Sheets of Mother Love, yet it isn't until the closing and title track that Human Larvae finally opens into an all out power electronic assault. This is the track that comes closest to the sound the artist previously employed in his tape on Unrest Productions.
Womb Worship is an example of a full vision executed with tact and precision. There are no filler tracks here, every moment adds to the experience and vision which creates a journey that is always dark and painful but also unique and so well constructed that the thought and effort put into this release cannot be ignored. Womb Worship is a victory for all involved and will just further validate that Human Larvae is a growing force in the power electronics/industrial world.
| | |
| --- | --- |
| Composition: | |
| Sounds: | |
| Production Quality: | |
| Concept: | |
| Packaging: | |
| Overall Rating: | |