EE19: GOODBYE CRUEL WORLD – BURY ME IN A HOLE IN THE GROUND 2xC11
14 February 2014
xdementia
One Comment
*DELETED*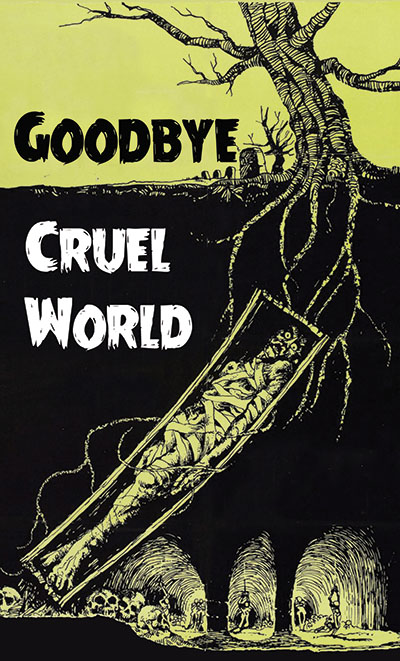 Call it cybergrind, digital hardcore, or power electronics Matt Serven of Goodbye Cruel World isn't hindered by genre boundaries or labels. The only essential elements to the sounds of Goodbye Cruel World is that it's hard fast and totally unrepentant. Recorded in the early 2000s but never officially released Bury Me in A Hole in the Ground is a document of a hardcore kid with a weird streak and a whole lotta anger. Serven is a causalty of heavy music in New England as he is also an integral part of the hardcore mythmakers Backstabbers Inc. and sludge mongers Ode.
Bury Me in A Hole in the Ground documents two full albums by the project in a double cassette case with full color artwork and lyrics. Each release also comes with a download card whether you want it or not.
Tape 1
Horror of the Truth
The Amazing Flying Carcass [ Full Track ]
Shallow Grave
Bored Stiffs
Phantom Pains
Scorched Above the Breath
When the Smoke Clears
Sight for Sore Eyes
The Elephant Man
Untitled
Untitled
Tape 2
Killing Time With State of the Art Technology
Organ Grinder
Brain Damage
Collapsed Lungs
I'll Sleep When I'm Dead
Out of Sight Out of My Fucking Mind [ Full Track ]
Mind Eraser
Sedatives and a Lullaby
Condolence Card [ Full Track ]
A Short History of the World
Strictly limited to 50 copies.
Professionally duplicated cassettes.
Two Full-color 4 panel j-cards.
Digital download card included.