Funerary Call – Fragments from the Aethyr CD
19 February 2014
xdementia
No Comment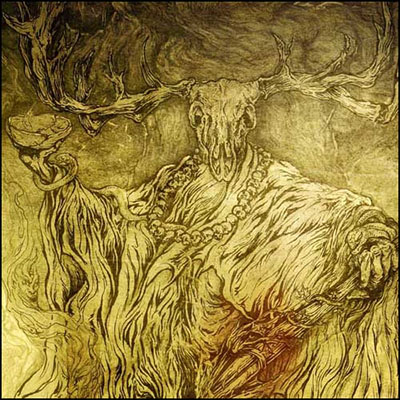 Funerary Call – Fragments from the Aethyr CD
Fragments from the Aethyr was released in 2012 on Crucial Blast records and was the second release of the year for Funerary Call making it the project's most prolific year since 2004. If you're unfamiliar Funerary Call it is the project of Harlow MacFarlane who also heads the Canadian death industrial project Sistrenatus. Fragments of the Aethyr continues to the exploration of FC's ritualistic ambience.
The sound on Fragments though is much more string-centric. With the interplays on the opening track Libation being almost a call-and-response between guitar and violin. Clocking in at 11 minutes the track flies by with an excellent evolution that expands even into noise territory with a wall of building harmonic distortion which is quite rare for the project – much more common for Harlow's other project Sistrenatus – but is of course perfectly structured and treated so as to create a unique atmosphere and form of creeping aggression.
Fragments is the tour-de-force of the album with a length of around 18 minutes this time featuring a more harmonic song-like structure. Sparse strings and drones soon form into a dirge with repetitive and depressive passages accompanied by sound effects that heighten the emotion. Transference From the Void is the closer here and harkens back to Funerary Call's classic sound. Dark drones mixed with ritualistic sound effects adds a contrasting but relevant conclusion to the disc.
All-in-all Fragments from the Aethyr is another success from this consistent and creative project which represents possibly the best ritualistic ambient that North America has to offer. The use of strings brings the album to the next level and prevents the sound from being a redundant effort from the project's growing body of work.
| | |
| --- | --- |
| Composition: | |
| Sounds: | |
| Production Quality: | |
| Concept: | |
| Packaging: | |
| Overall Rating: | |