Clew of Theseus – Meridian CD
14 May 2010
xdementia
No Comment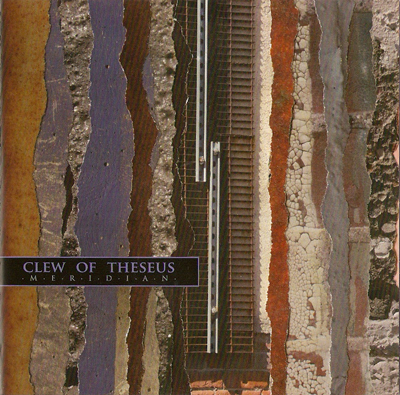 Clew of Theseus is the ambient/noise/industrial project by main proprietor of Cathartic Process Ben Brucato. I believe this is the first that I have heard from the man, his project, or his label. First off, the packaging comes across as quite artsy. Different textures align all sides somewhat reminding me of a Groundfault release. The information is plastered on in a small box but colored to blend in just right.
The sounds are not too far off from what the cover represents. The tracks are named as different kinds of symbols none of which I recognize as anything familiar. Of course they are probably important to the understanding of the release, but if I took the time to decode the concept behind each noise release I reviewed I would probably be unemployed right now.
There are 7 tracks on this puppy averaging out to about 10 minutes a piece. The one thing that all these tracks have in common is that they are unchanging on the larger scale of things. Each track has it's own sound but Meridian is more like excerpts of field recordings than actual songs that evolve or move somewhere. The first two tracks "(|)" and "O-(-" both fall into the more ambient side of Clew of Theseus' sound. Constant ambient drones with reverberating metallic textures and hits, generally not developing into any kind of rhythm is what is presented here.
From here on out things get noisier as "<|-" kicks up the noisy drone factor. I'm not too keen on the high-pitched frequencies that are featured here and almost never change. "---(-" brings things clearly into the industrial noise realm but also makes me realize for the first time how actually lo-fi the disc is. This is more an alternating drone fed through some cheap pedals but again with these intense industrial noise layers. The noise continues through both "<-|" which is a little more chuggy, and "O<|" which is probably the most unabashedly harsh track here, although once again there's that annoying high-pitched frequency fucking with my head.
Apparently there's no happy ending in "<-" where things are as turbulent as a stormy sea. This is probably the harshest drone track I have ever heard, with thick walls of curving feedback almost ready to topple over. Meridian is a nice introduction to Clew of Theseus' work. I'm not sure where this actually falls on the catalogue but I can imagine it lies somewhere near the beginning. Might be nice to heard a little more evolution in the tracks and perhaps some more separation in between layers. If you are into industrial atmospheres, field recordings, or simply loud ambient music this is right up your alley.
| | |
| --- | --- |
| Composition: | |
| Sounds: | |
| Production Quality: | |
| Concept: | |
| Packaging: | |
| Overall Rating: | |