Cursory – La Sorcière 7"
16 March 2014
xdementia
No Comment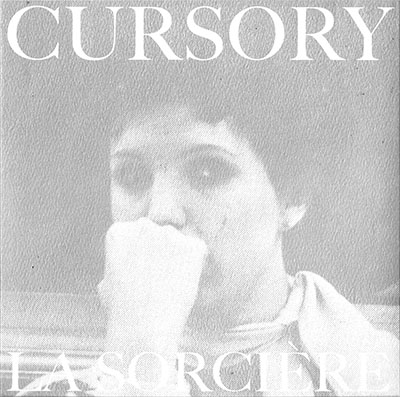 Cursory – La Sorcière 7"
La Sorcière is my first exposure to Cursory a project which I know nothing about. Starting with the presentation of this release I can say it's quite an effort where it has been beautifully yet subtly packaged by Blossoming Noise who always manages to put out quality material. Ultra heavy stock with silver silk screen art is very effective but leaves almost no information about the release to be shared.
Side A contains the track Some Men Look into their Minds and Find Naught but Pain and Shame which provides a bed of wispy noise with various swells. It's an airy type of track and it somehow employs ambience and noise at the same time. Nothing too aggressive so it puts me in an inquisitive mood.
Side B seems to be rife with locked grooves – either that or I am merely having some trouble with my record player – but it once again seems to contain filtered noise only this time it's much more subtle and seems to be focused around low tones. A few times my needle skips back to the edge or plays backward. It's a very curious effect where you can't seem to know where you are in the track at any given time. Certainly an interesting experiment, or perhaps just a fuck up in my setup although I doubt that is the case.
So it seems Cursory focuses on experimental sound for La Sorcière and Blossoming Noise does a great job of presenting it in every aspect of the game. This record is surely some type of "artifact" and most likely that is a curious one. Fascinating release.
| | |
| --- | --- |
| Composition: | |
| Sounds: | |
| Production Quality: | |
| Concept: | |
| Packaging: | |
| Overall Rating: | |