Hexen – Hexen C30
20 March 2014
xdementia
No Comment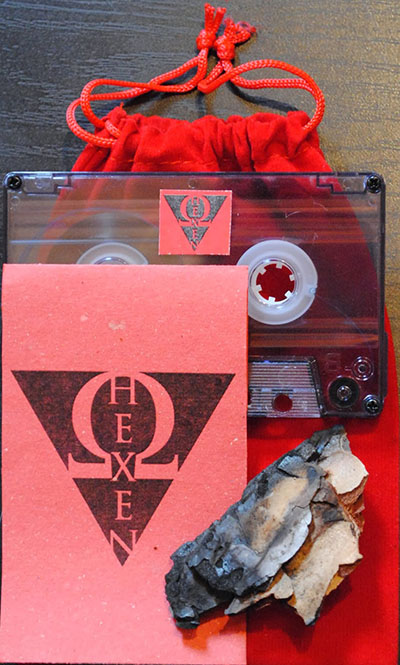 Hexen – Hexen C30
I immediately received a ritualistic tone from the second I set eyes on this release. Housed in a small velvet red bag and accompanied by a chunk of bark this release has esotericism written all over it.
Luckily the sounds live up to the carefully planned packaging. Side A features a beautiful mix of experimental atmospheres and sounds. Echoing glassy textures are laid as a bed of sound and added to that are ethereal whispers. All this which is then interrupted by heavy washes of noise blasts. The track goes on to end abruptly.
Side B suddenly breaks in as if the track from side A is just continued without a break. This time though, the glassy textures are replaced with a slowly rotating repetitive organ melody all the while featuring the same blasts of noise on top. The noise begins to run dry at this point becoming less effective although the same ritual atmosphere perseveres. The track continues more or less unchanged throughout it's duration.
This is candlelight music for sure and strikes me as a very intimate experience. Some of the subtlety is lost due to the persistent and contrasting noise elements here which by the time side B rolls around seems at odds with what the album is trying to do. Besides that this is a fascinating artifact and one that should be an asset to any ritual music fan's library.
| | |
| --- | --- |
| Composition: | |
| Sounds: | |
| Production Quality: | |
| Concept: | |
| Packaging: | |
| Overall Rating: | |