Phoned Nil Trio – Ar B Ok Alou 7"+C26+CD
22 March 2014
xdementia
No Comment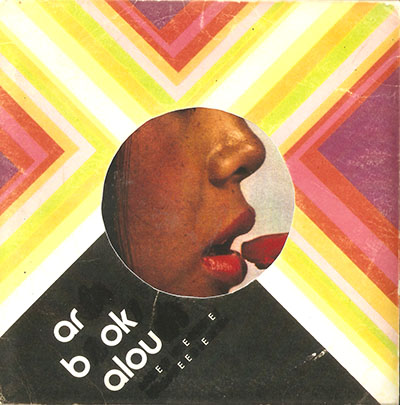 Phoned Nil Trio – Ar B Ok Alou 7"+C26+CD
Rainbow Bridge Recordings/FTAM/Ursa Major/Colbeck Labs/Maxcorp Industries/Blackhouse
This is a weird one and not just for the fact that this one release spans 3 different formats. Phoned Nil Trio is a group consisting of Neil Gravander (who also performs as Nummy) and Peter J Woods (who also performs under his own name as well of a slew of other projects) and Dan Shierl (who I am not familiar with). They are based out of the Milwaukee noise scene; infamous for it's growth and activity.
The style of Phoned Nil Trio is experimental sound through and through. Fuckery of the highest magnitude, samples, vinyl manipulation, and almost always in the forefront is some kind of synth fuckery. This is mostly quiet music – sitting in the shadows – every once in a while jumping out with a blast of weird synth glissandos or amplified sandpaper scrapings.
The truth is though, I can't listen to this stuff. This is not my thing at all. Much of Ar B Ok Alou seems to have little coherence even if you can except randomness as coherence itself. So much random sound yet if there is any substance here it is lost on me. Perhaps the only moments I can kind of see some type of cohesiveness is on the CD's tracks He's Going To Love Getting Tiddly. He's Like You. with its burly synth attacks or This is What A Heart Attack Feels Like to A Woman which features moments where layers actually collide to create interesting swells.
The 7" here contains what I think is the best material. These tracks are much more focused in their experimental weirdness. They contain gestures, moments, and even some more aggressive noise attacks which works really well in combination with the experimental sound collages. The synth work is more honed and the sound elements much more memorable and less stuttery than the tracks on the other formats. If this release was the 7" alone I feel it would get high marks, but I'm really not as much into the tape and CD that make up Ar B Ok Alou.
Phoned Nil Trio is a project by the freaks, for the freaks, and Ar B Ok Alou is one for the expirimental noise junkies who want long, meandering free noise jams.
| | |
| --- | --- |
| Composition: | |
| Sounds: | |
| Production Quality: | |
| Concept: | |
| Packaging: | |
| Overall Rating: | |