Fecalove – Void, Chaos and Cum CD
28 March 2014
xdementia
No Comment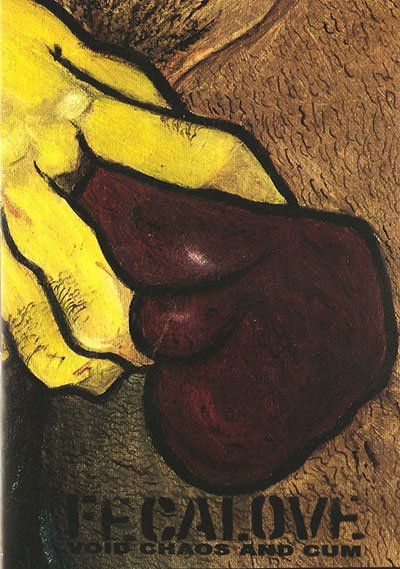 Fecalove – Void, Chaos and Cum CD
Fecalove is an incredibly prolific project that has been releasing music since 2004. Despite that fact Void, Chaos and Cum is actually my first exposure to a full album by the project. Obviously as can be deduced from the project's name the subject matter here is concerned with a variety of sexual depravity so if you're not into that kind of thing you may want to tread lightly here.
The albums opens with a fucked up sample most likely from some kind of porn film. But given this there actually isn't a lot of samples or images here in general. Most of the sexual reference is in a more abstract tone including the artwork which is actually quite well executed and packaged very professionally by Crucial Blast.
The bulk of the material on Void, Chaos and Cum is harsh noise but with a slight experimental and sometimes power electronic influence. Fecalove does a great job of changing up tracks, adding variation where needed, playfulness and harnessing aggression at key points. If harsh noise isn't your thing you will find this quite unrelenting but if you're already a fan you can hear how well balanced the effort is.
A lot of this is due to the excellent production quality. Fecalove has much more leeway than many harsh artists because the sound here is so full. The highs are searing yet encrusted with a square-wave filth that most artists aspire to but can't achieve. The mids and lows have a crunch that gives me this fuzzy feeling of fullness which falls along quite nice with the subject matter.
Despite this the album is long and feels like it as well. Clocking in at an hour it's a tour-de-force of harshness and depravity. That said even the longer tracks like Professional Disease and My Idea of Fun is Nuclear Holocaust are well paced and varied so as to provide a sense of a larger structure and keep interest throughout.
Void, Chaos and Cum is not an album for the easily offended, grossed out, or any of those with high morals or sensitivity to noise. This is for the grizzled and jaded noise fanatic to spin, indulge, and appreciate in all it's harsh and debased glory.
| | |
| --- | --- |
| Composition: | |
| Sounds: | |
| Production Quality: | |
| Concept: | |
| Packaging: | |
| Overall Rating: | |