V/A – The Moon is Hungry 2xC20
3 April 2014
xdementia
No Comment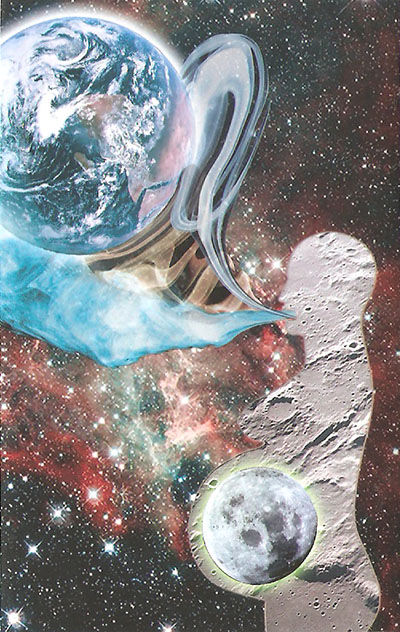 V/A – The Moon is Hungry 2xC20
Four killer artists come together to create this great double tape set. Immediately noticeable is the great artwork job tying everything together here. The artists tend to do a great job as well creating like-minded sounds to fit into their side. I listened to this puppy a few times before even opening up the booklet and realizing that it was more than one artist, which is one point that demonstrates how succinctly this material works together.
Up first is Homogenized who presents possibly my favorite showing on here. Very impressive sound design elements are treated in Terrestrials which sets the tone perfectly. I love the samples used and the way the track evolves from more organic elements to electronic glitchy-ness. Eventually a low key tribal beat rises into the mix and the ambience shifts which rounds off the track nicely.
Next is Andrew Quitter and he delivers a more focused drone piece with reverberating tribal percussion floating above the mix. It's quite steady for the duration but if anyone knows drone it's Quitter and he has constructed a delicately changing elemental pattern. Beautiful glassy synth work accentuates the airwaves and keeps the track ever-flowing.
Cruudeuces is sandwiched onto side C and are the only project that goes for a more lo-fi production value here but they do it swimmingly. Pulsating bass kicks combine with struggling saxophone bellows. Wisps of noise tendrils claw longing at the frays but as with the other tracks here there is plenty of air to breathe, restraint shown in an effective way as to really leave these sounds open for anticipation and imagination.
Up last is Dog Hallucinations with an excellently psychedelic track making great use of stretched-out samples, airy soundscapes and jamming guitar runs. The guitar here has the quality of a sitar so the general atmosphere is almost a space-aged Indian music. The sound design and manipulation of the various layers is just as impressive as what has come before and that is saying a lot.
I'm really taken aback by how incredible this tape set is. Very impressive top-notch work from these artists which really meshes well as a group of tracks. All brought together with tact and precision by the label. The quality of the tapes sound great, the compositions themselves are creative and dense, and the sound design is just first class. Excellent release and highly recommended.
| | |
| --- | --- |
| Composition: | |
| Sounds: | |
| Production Quality: | |
| Concept: | |
| Packaging: | |
| Overall Rating: | |