Bruital Orgasme – Untitled C30
14 April 2014
Andrew Quitter
No Comment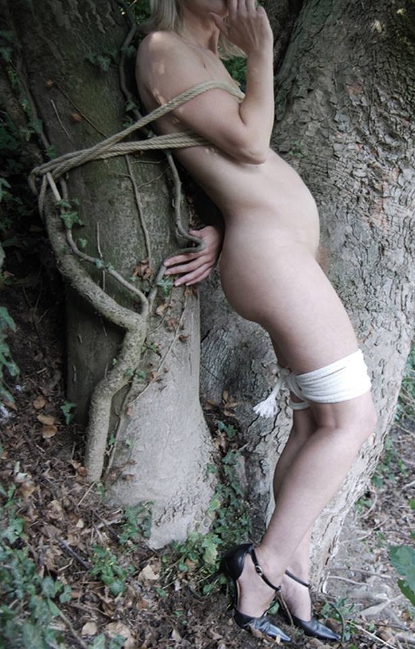 Bruital Orgasme Untitled – C30
Here we have a new tape by the married Belgian couple Bruital Orgasme, who seem to specialize in creating a mix of old school harsh noise combined with field recording cut-ups, glitch textures, and thick harsh drones. I have a few of their past releases, and while I've enjoyed them, there's been nothing that's really blown me away. There was enough to keep me interested though which led to this C30 landing in my hands. I think with this tape they have taken a huge step forward in creating a more cohesive and personal sound that is more fully realized and less "thrown together" improvised than past works I've heard. Released by the Italian label Sincope, the cover art consists of a tasteful color photo of a nude women tied to a tree with rope taken by one of the members. Even though these types of themes are obviously recurring and somehow integral with this group, I can't say that I really find it all that interesting or much of a representation of the sounds held within. There's nothing overtly sexual to the recordings, at least o my ear. I feel like a dark cityscape or something more abstract would work better, but obviously these themes are important to the band and sex sells am I right? It's printed on nice glossy paper and the tapes are dubbed well, sound good, and look nice as per usual from this young label.
Side A is credited as "In, Out, Error (8 Pieces)" which consists of tracks ranging from under a minute to several minutes long. The first two tracks are bursts of cut-up harsh noise. Thick bass and filtered white noise hit hard and disappears quickly. There's a lot of texture in these tracks and it would have been nice to see them expanded on. They definitely have that "tearing the shit out of radio shack gear" type of sound that I really dig. The third track begins with some field recordings of city sounds, lo-fi tape manipulations clash with consumer electronics being abused. This is somewhat of a preview to what lies ahead on side B. The fourth cut continues this with what sounds like heavy boots walking on worn in floor boards. When this ends you hit with a heavy blast of textured harsh noise that stays mostly in white noise realm with some quick jabs of bass thrown in the mix and glitched out computer data type sounds. This is one of the longer tracks on this side and it's recorded well and pulled off nicely. The next cut is more of an industrial drone type piece. Thick bass lays the ground for more filtered white noise layers and heavy analog synth drones. Towards the end mic feedback worms its way in giving the impression of contact mics being used somehow and giving it a nasty industrial edge. The next track consists of a squiggly electronic loop and highly manipulated vocal drones. The final piece is only a few seconds long consisting of ground hum and that high pitched sound you get maxing out the levels on 4-track. Nice.
Side B consists of the single track "Reification", which starts out with some gritty bass tones and concrete scraping mixed with field recordings of screams and a man talking. In a way this brings to mind some of Le Syndicate's early work and it's probably not surprising that a Belgian group would take some influence from them as well the Club Moral roster which also comes to mind. Things progress slowly creating a thick surreal atmosphere where tape manipulations meld with lo-fi electronics and a very urban sound emerges, walking down crumbling decayed streets, lamp posts illuminate shadowy figures on the corner, people screaming from the window of a house in the distance. About mid-way through the track an immense drone starts to build while the cut-ups fade out, leaving layers of tape hiss shifting about, car doors slam in a rhythmic matter. Slowly the harsh drones begin to take over with layers of harsh mid-range shifting and looping in a most pleasing matter until suddenly it stops, you regroup, and the play button pops up off the deck.
All in all a great evolution from a duo that already had a lot going on. I think the obvious effort to pull things together a bit, or maybe just getting more comfortable improvising together, really pays off with a tape that brings some real storytelling and emotion along with the wealth of harsh noise and gritty cut-ups. I'm looking forward to hearing more from them in the future.
| | |
| --- | --- |
| Composition: | |
| Sounds: | |
| Production Quality: | |
| Concept: | |
| Packaging: | |
| Overall Rating: | |