Navicon Torture Technologies – Your Suffering Will Be Legendary 2xCD
2 May 2014
xdementia
No Comment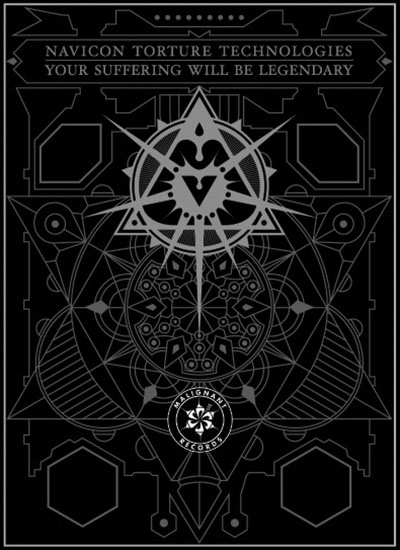 Navicon Torture Technologies – Your Suffering Will Be Legendary 2xCD
Your Suffering Will Be Legendary is a mammoth two disc set in a gorgeous digipak and stocked full of excellent ambient, death industrial, and drone featuring collaborations with artists like Aun, Cenotype, Herbst 9, Troum, Jarboe and more. It's a lot to take in and took me quite a few intense listening sessions to fully absorb the depth and breadth of the release. The funny thing about the release is that almost all of the power electronic influences of earlier NTT has faded which illustrates how this later material is somewhat of a transition for Bartow in evolving into his current incarnation of Theologian.
Three solid collaborations kicks off disc one with Aun, Black Sun, and Cenotype. While the Aun and Cenotype tracks take a minimal approach with floating ambiences, the Black Sun effort tackles the more industrial side of NTT and creates an effective layering of varied samples. Following these initial collaborations are 4 heavy tracks from NTT himself. Once again this marks the more ambient side of the project. The tracks are great though with the droning harmonics of Cult of Doom to the more industrial minded Headwound. I Won't Survive in a World Without You takes a more delicate approach with emotional piano music laid over threatening drones and echoing screams to provide a great juxtaposition and a unique atmosphere.
All this and the first disc is far from done with 2 more tracks including a mammoth one from Herbst9 clocking in at over 20 min! Commencing as a cold ambient track things are eventually warmed up with some low-key tribal drumming. By the end of the track there are several layers of carefully designed sounds which really dig deep and achieve and excellent bed of interesting sonorities. Last up on disc 1 is Hecate which is a project that tends to a dark drum & bass style. But there they embrace a more abstract industrial style in line with much of what has come before; it fits very well and acts as a succinct close to the first side of this expansive set.
Finally we embark on disc 2 and a dark and mysterious ride it is. I was worried about the Jarboe remix as I not a big fan of her vocal style but we are treated to a solid minimalist drone track that opens up the disc in a consistent fashion. Next up is a really special moment for me; the NTT & Deutsch Nepal collaborative effort which is a 9 minute track of pure ritualistic brilliance featuring wavering vocal chants and repetitive tribal influenced percussion, one of my favorite tracks form both artists.
Gumrot – a collaboration with Fragment King – is where the disc takes a turn to more a beat-oriented style. This is the first track on the entire set that I do not absolutely love. It's ok but the beats just feel like they are thrown on top of the drone work with seemingly little-to-no relevance. Following this however is the collaboration with Kristoffer Nyströms Orkester which has a similar feel to the Deutsch Nepal track but uses a shifting harmonic guitar tone along with haunting high-pitched drones to even further heighten the atmosphere.
A collaboration with Prometheus Burning follows and is the second beat oriented track on the set; yet this one seems to mesh much more effectively with the more industrial and ambient elements of NTT. A heavy, slow, power noise beat and distorted vocals are layered over melodic synth lines and seething ambience in a succinct effort. Following this are 2 great tracks with collaborators Steve Moore – who I am unfamiliar with – and Eidulon which tend to the more dark ambient realm. After that is a collaboration with Troum which has an unexpected intro to add some needed variety and then falls into more standard Troum territory of airy atmospheric harmonics which is fine by me. And closing the album is a 10 minute ripper with an edge The Moral of the Story is Dreams Inevitably Lead to Hideous Implosions which is a collaboration between NTT and The Bird Cage Theater. It's probably the heaviest track on this side with soaring distorted drones once again much reminding me of Bartow's Theologian project.
What a comprehensive and stunning last gasp of a re-issue here. The packaging is just gorgeously executed by Malignant Records. Despite the depth and breadth of material and artists involved it all falls together as one work of art spanning an incredible gamut of sounds and styles. This is essential listening for any fan of either NTT or Theologian and will appeal to many others in search of dark, cutting edge, and drone music.
| | |
| --- | --- |
| Composition: | |
| Sounds: | |
| Production Quality: | |
| Concept: | |
| Packaging: | |
| Overall Rating: | |