Weltschmerz – Dünnen Faden Des Lebens CDr
5 June 2014
xdementia
No Comment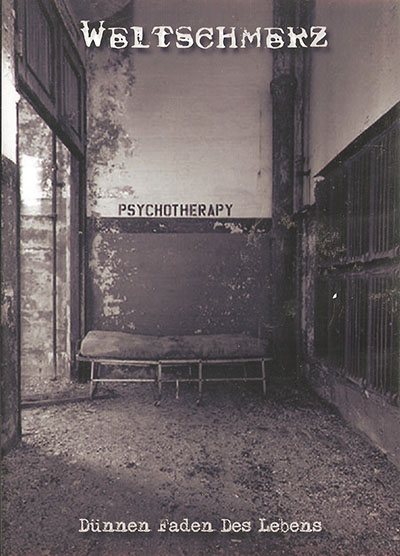 Weltschmerz – Dünnen Faden Des Lebens CDr
Nothing like a CDr in a DVD case limited to 20 copies. This is my kinda thing. I'm not exactly sure where this artist hails from but the tracks have alternate titles in Russian so I'm guessing that's where. The overall mood is bleak as can be and the audio here reflects that.
In Dünnen Faden Des Lebens Weltschmerz mixes dark ambient and black noise to form a grey slated aural field of post-apocalyptic atmospheres. Angst is a slow burner of a minimalist noise track which passes by in a blur but the following Psychopathie is a fucking fantastic demonstration in industrial ambient.
The remainder of the album blurs the line between dead air broadcasts of lo-fi noise and more textured dark ambient but this is not sounding like it's synth based. Field recordings, industrial sounds, and sound design elements converge to form an effective bleak atmosphere.
This is a pretty good release. Not groundbreaking but a solid work of minimalist ambience that can really feed a dark mood. A few standout tracks grace the album with others at least being well thought out and hashing out the atmosphere more thoroughly. Nice work.
| | |
| --- | --- |
| Composition: | |
| Sounds: | |
| Production Quality: | |
| Concept: | |
| Packaging: | |
| Overall Rating: | |