Death Jenk – s/t CD
10 June 2014
offering
No Comment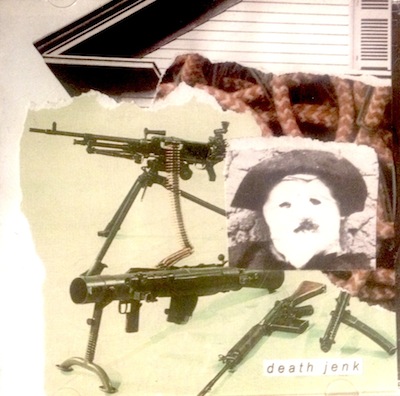 Death Jenk – s/t CD
This Phage Tapes offering consists of four tracks of swelling feedback assaults, and damaged vocals which hang somewhere in the background, surrounded by synthesizer and distorted drum machine treatments. I appreciate this type of chaotic harsh noise because it seems to lack any major over-thought and any opportunity for obvious high-falutin conceptual morass. It instead relies on a nice palette of crushing sounds.
This album goes in head first as furiously as possible, concept or no concept.
The first two tracks bleed into each other seamlessly, sometimes stuttering into delay pedal segueways and sometimes falling off into unexpected stop-start movements. The interaction between the vocals and feedback is completely baked into the crevice made by the blasts of ruined drum machine distortions. The spiraling sludge sometimes gives way to unexpected sounds like radio
static or moments where just the buried vocals somehow find a way to the top.
The second two tracks are live. Track 3 which is a live take from a show in Minneapolis is more of the same but feature a somewhat different structure that seems to focus on shredded loops initially, but then disintegrates into the familiar delay pedal placement and abrasive stop/starts featured on the first two tracks. Present here however is a synthesizer noisebox freak out. The fourth track is recorded a lot more poorly and offers a slightly different lens to appreciate Death Jenk through (complete with effects pedal stomping noises), but arguably unnecessary. Still, it's nice to have some variation in chaos, right?
Listening to the first few seconds of the opening track might give you the impression that this release has some structure and coherency. But since not much is offered in the way of information about the release or Death Jenk itself on the CD booklet, you should hope that the three artists responsible for this insanity will record again.
| | |
| --- | --- |
| Composition: | |
| Sounds: | |
| Production Quality: | |
| Concept: | |
| Packaging: | |
| Overall Rating: | |