Sunken Cheek – Prince Of Mind / Husk 7″
12 August 2014
xdementia
No Comment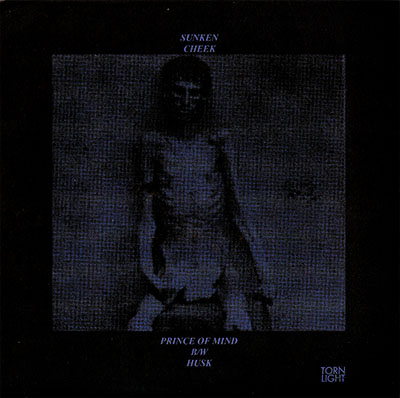 Sunken Cheek – Prince Of Mind / Husk 7″
Immediately noticeable is the excellent packaging on this release. The artwork is simple yet effective using silk screened blue ink on black matte and accompanying this is a giant fold-out poster. More than one could ask for in a seven inch record already. One fair warning is that this record plays at 45rpm so it's very quick, maybe 8 minutes tops.
Sunken Cheek represents everything that I want in noise these days; creepy atmosphere, harsh electronics, tinges of industrial scraping at the edges, and plenty of crusty production quality. The composition is really well done with subtle industrial drones that feature a good portion of distorted noise on top. One important thing is that the feedback and distorted noise is always moving around in pitch so it never really gets tiring.
There are moments that are harsh, mammoth surges of noise only to die down into a menacing drone. The movement is very effective and the vision is very finite which pigeonholes this material right into my sweet spot and keeps it there. If you like it scummy, lo-fi, yet with a wide spectrum of dynamics and frequency I highly recommend this. Would love to hear more from this artist where there is ample time to let the compositions evolve.
| | |
| --- | --- |
| Composition: | |
| Sounds: | |
| Production Quality: | |
| Concept: | |
| Packaging: | |
| Overall Rating: | |